'Vatican does nothing against drugs here, just collects money at mass' – Duterte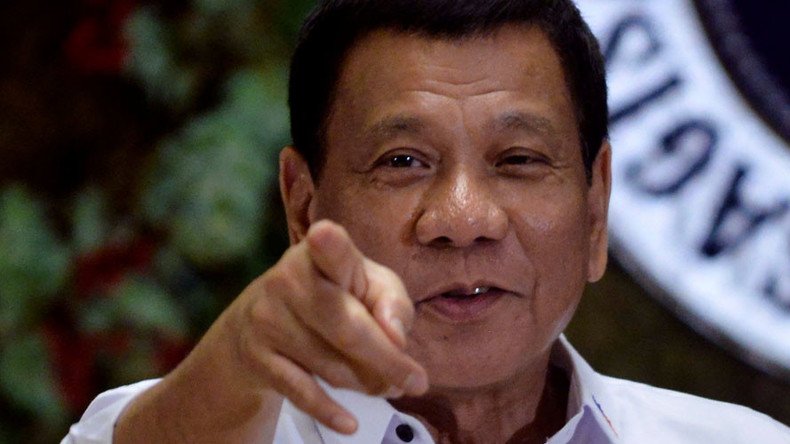 Philippines President Rodrigo Duterte has criticized the Catholic Church for attacking his human rights record, saying it has done nothing for drug addicts in the Philippines except collect money. He then offered his own version of what religion should be.
The spat between the institution and Duterte continues, following a photo exhibition the Vatican staged to commemorate the victims of Philippines violence it says happens by the president's hand. Duterte, in response, blasted the Church with insults at a Christmas party.
"You say Duterte killer. You priests, you blame me for the deaths of thousands of drug addicts, even those who died in hospitals, you still blame me. But you are the ones who killed Christ," the president is cited as saying by the Philippine Star.
Duterte has been assailed from all sides for alleged human rights violations in his drug war, with photographs of street violence and testimonies of summary killings frequently making headlines. But the president believes the Church is doing an even poorer job, which includes ignoring the Philippines' poverty and drug addicts, while continuing to collect cash at mass.
He also accused the Church of not doing "anything against illegal drugs. They never bothered to help."
He then suggested an "Iglesia ni Duterte" (Church of Duterte), in which there would be "no prohibition, you can even have five wives. But make sure you are responsible for your problems."
"The Church is not giving anything even if they collect so much. My statement is full of sarcasm because they [priests] have been criticizing me. They are hypocrites," he added.
Duterte went on to say he believes in God and Allah, but he is against organized religion, especially the Vatican, because it sows the fear of hell in Christians.
"Do not believe it. That is what that religion is all about, they are instilling fear that you will go to hell if you are a sinner. But you will only know if there is indeed a hell if you die… Be careful about religion, it is about gold. It is about gold. They have not done anything. Where is their God and their grace? There is the hypocrisy of it all."
He then went on to bash the United States for its recent criticism – one that cost it all friendly cooperation with the Philippines.
"America did not do anything for the 4 million Filipino addicts. And they even scold me," he went on.
READ MORE: 10 dead, at least 20 wounded in blasts at Philippines boxing match – reports
"Catholic[ism] is a sordid religion. It is about time to show you its history," he said, mentioning Pope Leo as someone "sired and even had sex with his child."
The Philippines president meanwhile continues his fight against illegal trafficking of drugs at home. Some $20 million worth of crystal meth was seized in Bukidnon on Tuesday in an intercepted car. The president continues to be criticized for his methods, but insists it is not up to foreigners to interfere in the Philippines' domestic affairs.
You can share this story on social media: