Russian FM proposes expulsion of 35 US diplomats in sanctions tit-for-tat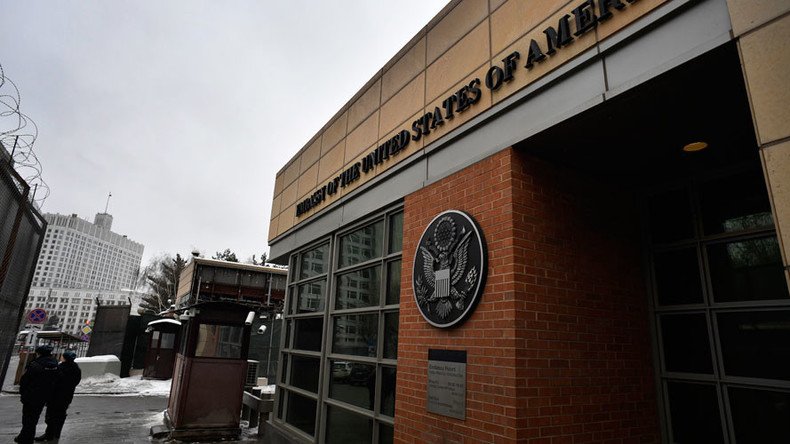 Russia's Foreign Ministry has proposed expelling 35 American diplomats in response to the recent sanctions imposed by Washington.
"Russia's Foreign Ministry and their colleagues from other agencies have proposed that President Vladimir Putin proclaim 31 employees of the US Embassy in Moscow and four diplomats from the US Consulate service in St. Petersburg as persons 'non-grata,'" Foreign Minister Sergey Lavrov said, as cited by news agencies.
The proposal also includes a ban on using a recreation facility and storage facility used by American diplomats in Moscow, according to Lavrov.
"We hope these proposals will be reviewed as quickly as possible," he said.
At the same time, Russian Foreign Ministry spokesperson Maria Zakharova has refuted a report put out by CNN claiming that Russia will close a school for children of English-speaking diplomats.
Earlier this morning, CNN said that Russian authorities had "ordered the closure of the Anglo-American School of Moscow" in retaliation for the expulsion of 35 members of Russia's diplomatic staff from the US. The news channel cited an anonymous "US official briefed on the matter" as the source of the information.
The school "serves children of US, British and Canadian embassy personnel, to US and foreign nationals," the report said.
READ MORE: Zakharova: 'Obama team are foreign policy losers, humiliate Americans with anti-Russia sanctions'
"This is lies. Apparently the White House has gone completely mad and began to invent sanctions against their own children," Zakharova wrote on her Facebook page.
She added, apparently addressing the journalist: "And don't write that 'Moscow has denied… or Moscow will not…' Write it as it is: 'CNN and other Western Media once again spread false information, citing US officials.'"
READ MORE: US expels 35 Russian diplomats, closes 2 compounds
On Thursday, President Obama gave 35 Russian diplomats no more than 72 hours to leave the US, while also evicting Russian diplomats from facilities in Maryland and New York. The new anti-Russian sanctions are part of Obama's parting shot at Moscow, which he claims interfered in the US presidential election – an allegation that Moscow has repeatedly written off as "nonsense."
Russia's first response to this latest move was a sarcastic tweet from the Russian embassy in London that featuring a duckling with the word 'lame' over it.
President Obama expels 35 🇷🇺 diplomats in Cold War deja vu. As everybody, incl 🇺🇸 people, will be glad to see the last of this hapless Adm. pic.twitter.com/mleqA16H8D

— Russian Embassy, UK (@RussianEmbassy) December 29, 2016
"What really strikes me is the hypocrisy of the American reaction, it's so childish, it's obvious sour grapes for having lost, for Clinton's having lost the election," former UK diplomat Peter Ford told RT.
"America interferes in elections and referenda around the world every week. Only a few months ago, Obama came to Britain and brazenly and openly interfered into Brexit conspiring with David Cameron in a clearly prearranged script," Ford said, recounting Obama's threats to put the UK at "the back of the queue" for trade deals with the US if it voted to quit the EU in June.
You can share this story on social media: