Russia sanctions 'childish, petulant & pointless revenge for Clinton loss' – UK's ex-Syria envoy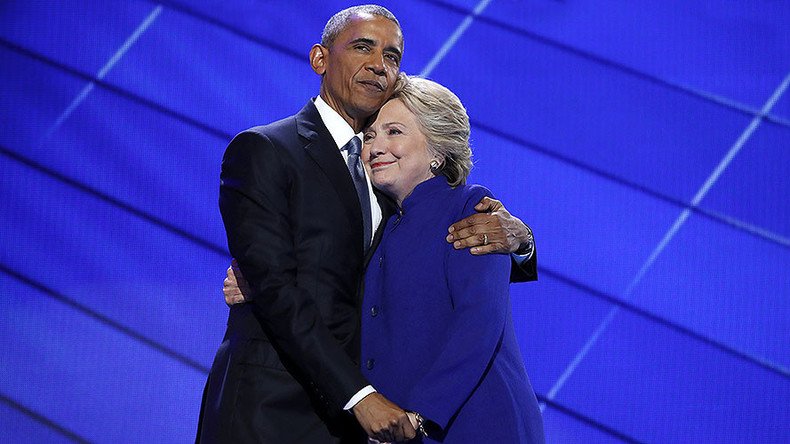 Imposing new anti-Russian measures is a sore loser reaction by the outgoing administration to their candidate's loss in the race to the White House, and reeks of hypocrisy as the US meddles in other countries' affairs all the time, former UK diplomat Peter Ford told RT.
Ford served as British Ambassador to Bahrain in 1999-2003 and then as Ambassador to Syria, until he retired from UK's diplomatic service in 2006. In recent years, he has become known as a vocal critic of UK policy in Syria.
"What really strikes me is the hypocrisy of the American reaction, it's so childish, it's obvious sour grapes for having lost, for Clinton's having lost the election," Ford told RT, commenting on the array of anti-Russian sanctions announced by US President Barack Obama on Thursday in retaliation to the alleged hacking of US institutions and individuals which Washington attributes to the Russian government.
Ford noted that the claims by Washington of Moscow's interference into the US internal policy are poorly substantiated and seem preposterous as they stem from a country that has a long history of meddling into the internal affairs of other countries.
READ MORE: Report on 'Russian hacking' offers disclaimers, barely mentions Russia

"America interferes in elections and referenda around the world every week. Only a few months ago, Obama came to Britain and brazenly and openly interfered into Brexit conspiring with David Cameron in a clearly prearranged script," Ford said, recounting Obama's threats to put the UK at "the back of the queue" for trade deals with the US if it voted to quit the EU in June.
Although Obama's comments in the UK angered part of the British public, his interference in its domestic politics went "almost unnoticed," according to Ford. Contrary to this episode, in the case of "Russian hackers" allegedly breaking into the DNC, to obtain the emails smearing the Democratic candidate, the evidence is murky but accusations are abundant.
READ MORE: Kremlin: New sanctions underline Obama admin's 'unpredictable & aggressive' foreign policy
"To accuse Russia, providing no proof, by the way, is amazing," he said, calling the US response a "petulant, childish, pointless" reaction. Ford added that even if Moscow had somehow contributed to the leaks, "it did a service to humanity" by "exposing Clinton" and her camp's conspiracy against Bernie Sanders.
Instead of concentrating on "the hanky-panky that was going on in the Democratic Party," the US media had "gone overboard on Russophobia," Ford argued.
"The media gave altogether too much attention to this all Russophobia thing," he said, disputing an earlier assessment by Obama's security adviser Susan Rice, who claimed that US media "missed an opportunity" with insufficient coverage of Russia's hacking allegations.
Ford hopes that the incoming Trump administration is ready for a fresh start in US-Russia relations as the "page will turn on this lame duck Obama administration."
"Most importantly of all, the countdown has begun to the taking of office of the new administration when, with a bit of luck, that will be all changed," he said.
The statements, views and opinions expressed in this column are solely those of the author and do not necessarily represent those of RT.
You can share this story on social media: