Police ban far-right demo in Cologne on New Year's Eve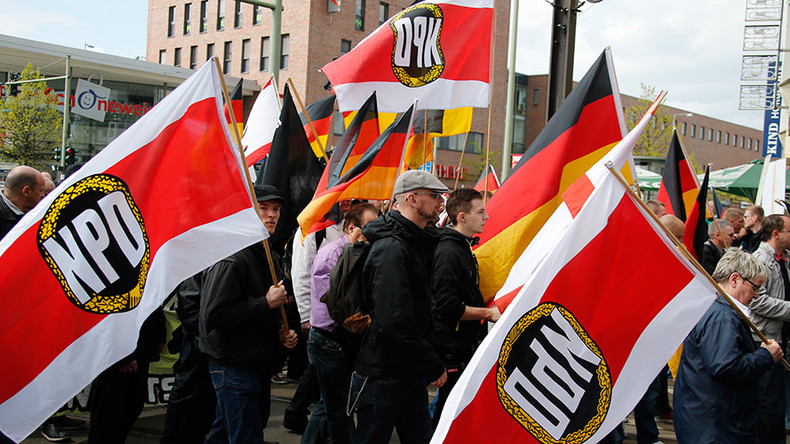 Cologne police have banned a demonstration planned by the far-right NPD for New Year's Eve at the city's Dom, citing "security concerns." The rally was set to mark and protest last year's sexual assaults involving refugees on women during the celebrations.
"[Cologne] police president Jurgen Mathies has banned the demonstration of the NPD scheduled for December 31," an official press release by the police reads.
"The reason for the ban is a serious threat to public security, which cannot be averted otherwise," it adds. According to the statement, law enforcement officials will hold a separate conference on Wednesday to provide more details on the decision.
Permission for the rally was applied for by a private individual, yet the overall organization is being carried out by the ultra-nationalist National Party of Germany (NPD). The person in question can appeal the decision through "legal administrative proceedings," the police announced.
The demonstration was supposed to take place in front of the world famous Cologne Dom, near the city's central railway station. The December 31, 2015 New Year celebrations there gained a grim notoriety after it was reported that hundreds of women were sexually harassed, assaulted and robbed by groups of young men, including refugees during the festive night. The news quickly caused uproar in Germany, which welcomed more than 1 million migrants and refugees in 2015.
The banned NPD rally was supposed to show "solidarity" with the women, a post on the Facebook page dedicated to the protest says. According to the message, the rally was also supposed to protest the "anti-popular" refugee policy of the government that's allegedly behind the incident. The Dom square shouldn't become a "no go area," the NPD stressed.
The planned demonstration drew staunch opposition from the anti-fascist and leftist movements. One should not allow the NPD to "take advantage" of the demo and "use the international press" to promote their ideas, a message by the "Cologne against far-right" movement said. According to the statement, the NPD will simply try to "exploit" the situation for their "racist" slogans.
In a bid to avoid a repetition of last year's tragic events, police in Cologne recently announced a serious boost to its presence during the festive night. The plan envisions a deployment of 1,500 police officers to guard the celebrations and an increased observation of the Dom square and the area in front of the central railway station by cameras.
"What happened last year can never happen again," Mathies announced two weeks ago, commenting on the plans for New Years' Eve in Cologne.
According to the latest official information cited by Die Welt, the violence in Cologne has so far resulted in 267 investigations against 333 suspects. However, half of the proceedings have been dropped by prosecutors, the outlet adds, while 30 perpetrators have been convicted.