Berlin attack suspect fled to Italy by train via France, CCTV footage confirms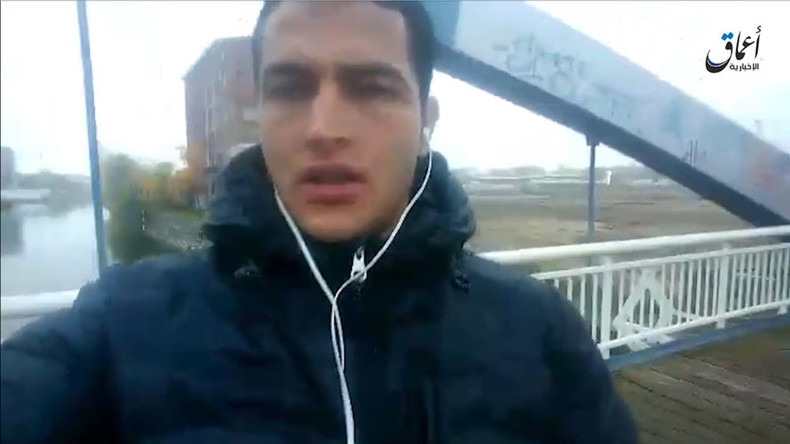 Surveillance footage confirms that Berlin attack suspect Anis Amri fled to Italy, where he was later gunned down by police, via the French city of Lyon, according to a source close to the investigation.
READ MORE: Berlin attack suspect confirmed dead after Milan shootout – Italian interior minister
"A man corresponding to the killer was spotted on the afternoon of Thursday, December 22, on a platform at the (Lyon-Part-Dieu) station wearing a cap and backpack," the source said, according to AFP.
"He appears alone in these images," the source added.
Officials believe Amri purchased a ticket for Chambery, France – located between Lyon and the Italian border – while at the station in Lyon, a judicial source told Reuters.
Meanwhile Italian police have released an image of Amri outside Milan Central Station captured hours before he was shot by police in a suburb of the city.
Investigators are still trying to establish how the 24-year-old, who is suspected of hijacking a truck and plowing into a Berlin Christmas market, killing 12 people, managed to escape the German capital and transit through France before being apprehended and killed in Milan, Italy.
The Tunisian national was the subject of a four-day manhunt before he encountered officers on routine patrol in a suburb of Milan. The suspect reportedly opened fire and Italian police shot him dead.
Islamic State (IS, formerly ISIS/ISIL) claimed responsibility for the December 19 attack and later released a video showing Amri pledging allegiance to its leader, Abu Bakr al-Baghdadi.
Forty-eight people were injured, although investigators say this number would likely have been higher were it not for the actions of the Polish truck driver who resisted Amri's takeover of his vehicle before being fatally shot in the head.
Police say Lukasz Urban prevented a larger number of casualties by grabbing the steering wheel in a struggle with Amri and directing the truck back out of the crowd.
A campaign is now underway for the German government to honor the 37-year-old driver posthumously.
More than 37,000 people have signed an petition addressed to German President Joachim Gauck, calling on him to award the Federal Cross of Merit – the highest civilian honor – to Urban.
The Change.org petition says that "according to current reports, the autopsy shows that he struggled with the perpetrator and was severely injured and eventually killed by him."
"With this heroic act, he probably saved many lives ... For this bravery, he has earned Germany's highest decoration," it adds.
Opposition Green party foreign policy spokesman Omid Nouripour called on Foreign Minister Frank-Walter Steinmeier to honor Urban. He wrote in a letter that with his "heroic deed," Urban had fulfilled "the conditions for an award with the Order of Merit of the Federal Republic of Germany."
There have also been calls, led by the federal president of the German Police Union, Rainer Wendt, to recognize the actions of the two Italian policemen who stopped Amri.
Amid the revelation that Amri was under surveillance for several months, Wendt has again voiced his criticism of legal restrictions he says impact police monitoring of potential terrorists. Civilians are "rightly outraged and anxious that such a person can walk around here, keep changing his identity and the legal system can't cope with them," he said.
READ MORE: Most Germans want enhanced video surveillance after Berlin Christmas market attack – poll
German police are calling for wider use of CCTV in public spaces and for powers to detain suspects for longer periods of time.