S. Korea's largest airline allows its crews to use Tasers against in-flight violence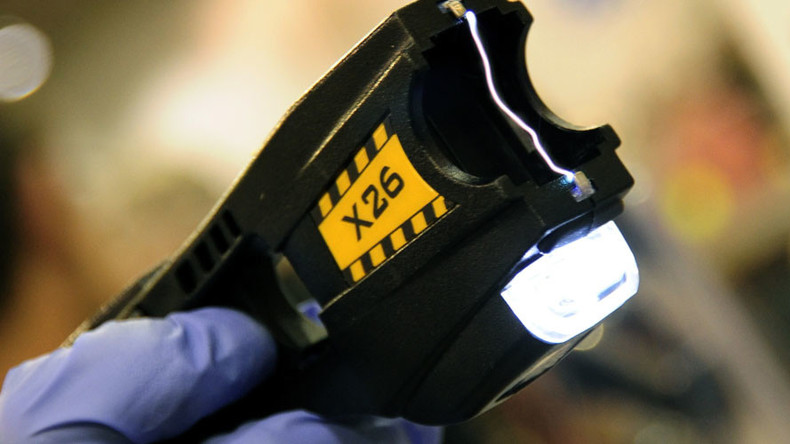 Korean Air Lines crew members have been given the go-ahead to "readily use stun guns" to subdue violent passengers in a "fast and efficient manner." The move comes after the South Korean carrier came under fire for its handling of an onboard incident.
"We have decided to improve our conditions and procedure on using Taser guns to cope with violent acts and disturbances on board in a fast and efficient manner," Korean Air Lines said in a statement, announcing its new crew guidelines.
A spokesman for the company said the changes would lighten conditions on using Tasers so that crewmembers can "readily use stun guns," Reuters reported.
The carrier said it will hire more male flight attendants, boost staff training, allow use of the device to subdue violent passengers, and ban those with a history of unruly behavior.
Men account for only about one-tenth of Korean Air flight attendants. The carrier has promised to have at least one male on duty in the cabin for each flight.
"While US carriers have taken stern action on violent on-board behavior following the terrorist attacks of September 11 [2001], Asian carriers including us have not imposed tough standards because of Asian culture," Korean Air President Chi Chang-hoon told a news conference.
"We will use the latest incident to put safety foremost and strengthen our safety standards," he added.
This video contains occasional coarse language
Last week US pop singer Richard Marx, 53, helped restrain a violent passenger on a Korean Air flight from Hanoi to Seoul. The '80s star blasted the crew for being "completely ill-equipped to handle situation." His wife Daisy Fuentes, a TV host and model who was traveling with Marx, said that a guy sitting nearby "got crazy" and started attacking flight attendants and passengers.
Video of the incident posted on YouTube showed a young man in a business class seat spitting and swearing at crew members trying to restrain him with a rope.
"When he started pushing the female staff and pulling them by the hair," Marx was the "first to help subdue him," Fuentes wrote on Instagram.
READ MORE: 'Should've Known Better': 80s popstar subdues attacker in Korean Air fiasco (PHOTOS)
"This went on for FOUR hrs," she continued. "They never fully got control of him. They didn't know how to use the taser & they didn't know how to secure the rope around him. (He got loose from their rope restraints 3 times.)"
An airline spokesman later said that the passenger involved in the incident, identified by his surname Lim, had consumed two-and-a-half shots of whiskey during the flight.
Previously Korean Air was involved in an embarrassing case of bad passenger behavior in December 2014, when Heather Cho, a 40-year-old vice-president of Korean Air and the daughter of the carrier's chairman, forced a senior crewmember off a plane at JFK Airport because she didn't like the way she had been served macadamia nuts. The incident resulted in Cho serving nearly five months in jail.
The number of in-flight incidents has been on a rise in South Korea, going from 191 cases in 2012 to 460 last year, the Korea Times reported, citing transportation ministry.
You can share this story on social media: