French cops accidentally ship out on USS Eisenhower after losing their way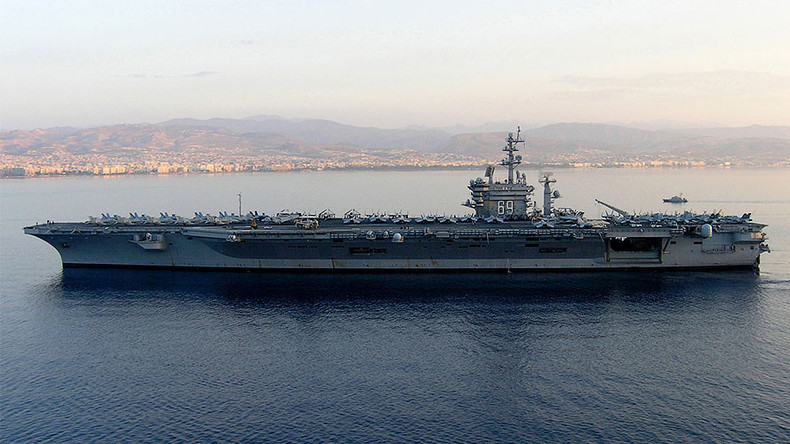 Three French police officers who don't speak English were inadvertently shipped out on the aircraft carrier USS Dwight D. Eisenhower, after deciding to take a last-minute tour before the vessel left Marseilles, only to end up getting lost.
The curious officers, who were providing security for the US aircraft carrier during its stay in the southern French port, apparently climbed aboard the USS Eisenhower on Tuesday morning and spent about an hour wandering around the huge vessel.
The officers were credentialed to be aboard but not on duty, so they were let in by the watch officers, the US Naval Institute (USNI) News reports. The officers came aboard the carrier just before the ship left the port, a US Navy official told USNI News on Thursday.
They were eventually found by the sailors, but only after the USS Eisenhower had left the dock, and so were unable to return to port by themselves. The crew finally arranged for the officers to leave on a harbor tug boat, but the incident resulted in an hour-long delay in the ship's schedule.
On Wednesday, Caroline Pozmentier, a security assistant for the city of Marseille, commented on the incident by saying that the officers "had no business being on the aircraft carrier" and stressed they "will be subjected to disciplinary sanctions."
It's not the first time the USS Dwight D. Eisenhower has made the headlines for rather unusual reasons. In September, it was reported that a sailor had unexpectedly given birth to baby girl aboard the aircraft carrier while it was deployed in the Persian Gulf.
The Eisenhower Carrier Strike Group is now returning to Norfolk, Virginia, after supporting the US-led effort to fight Islamic State (IS, formerly ISIS/ISIL) in Syria and Iraq for five months, and spending the past two months in the Mediterranean Sea conducting maritime security operations.
You can share this story on social media: