War baby: US Navy sailor abruptly gives birth on aircraft carrier at sea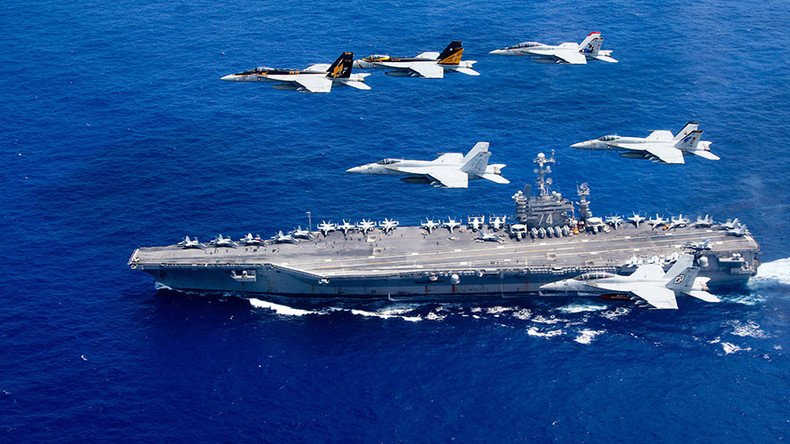 The US Navy was surprised to find a sailor, who had been complaining of stomach pain, give birth to baby girl aboard an aircraft carrier while deployed in the Persian Gulf. The aircraft carrier is in the middle of flying combat missions over Iraq and Syria.
The sailor, who never reported being pregnant, gave birth aboard the aircraft carrier USS Dwight D. Eisenhower while it operated in the Persian Gulf, according to the Navy.
The Navy said the sailor had complained of abdominal pain and recently was admitted to the ship's medical department, where she later gave birth to a seven-pound girl.
"As the baby was born at sea aboard an operational unit, the main focus for the U.S. Navy, the ship and its crew is the safety and well-being of the baby and the mother," Fifth Fleet spokesman Cmdr. Bill Urban said in a statement to Stars and Stripes on Tuesday.
The date of the baby's birth was not disclosed, but the mother and child were flown with a medical escort to Bahrain and admitted to a shore-based hospital for followup care, according to Commander Urban. Both were healthy and doing well.
Urban said that the Navy requires annual health examinations and for expectant mothers to self-report pregnancy within two weeks of confirmation from a doctor.
The sailor hadn't reported being pregnant and the chain of command wasn't aware of her pregnancy. It is not clear if the sailor herself knew she was pregnant, according to the Virginian-Pilot. Expectant mothers are allowed to remain on ship up to the 20th week of pregnancy.
Urban said the sailor, whose name has not been released, is assigned to a squadron in Carrier Air Wing Three. Aircraft from the wing have been flying combat missions over Iraq and Syria in support of Operation Inherent Resolve.
This was not the first surprise birth for the Navy. According to Fifth Fleet, a Marine aboard the amphibious assault ship USS Boxer gave birth in May 2003, during the ship's deployment to the Gulf.
You can share this story on social media: