France to deploy over 91,000 police and soldiers during X-mas & New Year celebrations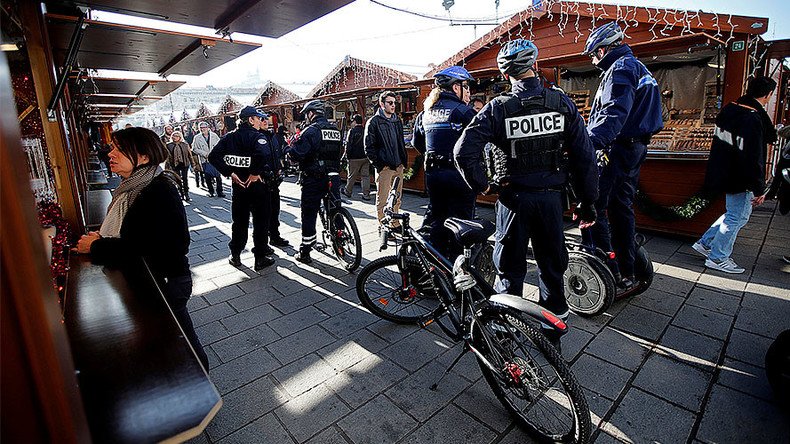 France will deploy tens of thousands of soldiers and police officers during Christmas and New Year's celebrations, its interior minister said, adding that the terrorist threat "is high" in the wake of recent attacks.
"For the end of year festivities, and especially Christmas weekend, there will be more than 91,000 members of the security forces deployed including members of the national police, national gendarmes and soldiers, as part of Operation Sentinel," Interior Minister Bruno Le Roux said.
Operation Sentinel was launched by the French Army in the aftermath of the Charlie Hebdo attacks back in January of 2015 and the later Paris attacks.
According to Le Roux, the terrorist threat "is high" and France's response "has never been stronger."
Le Roux was speaking during a meeting with the security personnel at Gare de Lyon station in Paris.
READ MORE: French police foil terrorist attack, arrest several suspects – interior minister
"I wanted to come to Gare de Lyon because this station will see a huge rise in passengers today and tomorrow," he said, adding "I wanted to show the perfect coordination between the hundreds of personnel on duty including the police, soldiers and security staff with [French rail operator] SNCF and [Paris public transport operator] RATP."
The minister stressed that the ramp up in personnel wasn't a direct response to the recent Berlin Christmas market attack, but a measure intended to improve security in general.
France has been on high alert since January of 2015, when it was hit by a series of Islamic State-linked terrorist attacks. The biggest loss of life took place in November of 2015, when at least 130 people were killed and 368 injured in coordinated attacks in Paris and Saint-Denis, a northern Parisian suburb.
On July 14, at least 84 people were killed in Nice when a truck driven by an Islamic State (IS, formerly ISIS/ISIL) sympathizer plowed through crowds during Bastille Day celebrations.
Also in July, two Islamic radicals murdered Father Jacques Hamel at a Saint-Etienne-du-Rouvray church in northern France by cutting the 85-year-old priest's throat.
Earlier in December, a survey conducted by the Odoxa research institute revealed that almost three-quarters of French citizens fear terrorist attacks during the upcoming holiday season.
You can share this story on social media: