1,300 French prisoners radicalized in jail – justice minister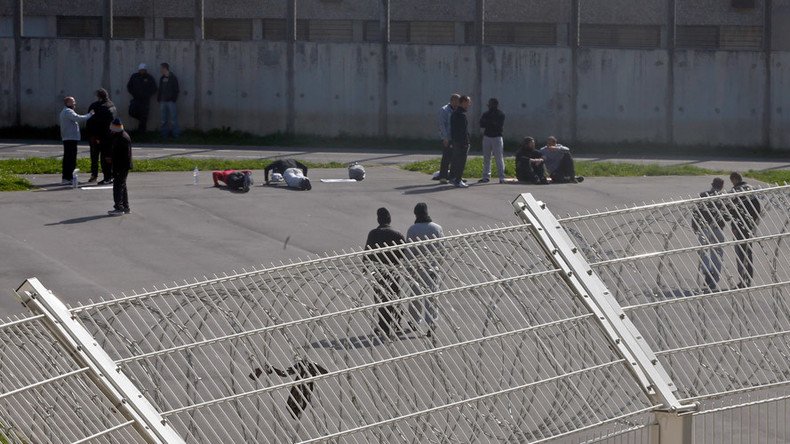 At least 1,300 France citizens imprisoned on common criminal charges have become radicalized in jail, according to France's justice minister, who said that some 340 people in French prisons have been convicted on terrorism-related charges.
There are currently "340 people prosecuted [in France] on charges related to terrorism" in French prisons, French Justice Minister Jean-Jacques Urvoas said in an interview with Europe 1 radio on Sunday.
However, he said that didn't include those who have become radicalized in prison.
"There are people who have been imprisoned, according to common criminal law, and then became radicalized in prison…. Now I can tell you a figure with high degree of accuracy – 1,300 people."
The minister said that he doesn't yet know what to do with those radicalized individuals.
"Either we bring these radicalized people together and have a risk of building a collective consciousness, even a union [of radicalized individuals]. Or we divide them, but then we [face a risk of] proselytism [an act of attempting to convert people to their opinion]," he said.
Urvoas's statement comes following a report in French Le Journal Du Dimanche newspaper on Sunday, saying that some 15,000 individuals who may pose a terrorist threat have been put under constant surveillance in France.
In the meantime, 4,000 of them are likely to take action and are monitored more actively by French special services, the paper says, citing the data from the interior Ministry and General prosecutor's office.
Eighteen percent of those 15,000 are minors, the paper says, adding that the youngest potential jihadist is 11 years old. According to the paper, more than 2,000 are connected to jihadist networks.
READ MORE: 2,000 teens radicalized by ISIS in France – report

The report also says that the majority of those potential jihadists are concentrated in urban areas – the Paris region, in the north of France, the Rhone Department in the east and the Mediterranean Basin.
France has been on high alert since January 2015, when it was hit by a series of Islamic State-linked terrorist attacks. The biggest loss of life took place in November 2015, when at least 130 people were killed and 368 injured in coordinated terror attacks in Paris and Saint-Denis, a northern Parisian suburb.
A tragedy in Nice on July 14 killed at least 84 people when a truck driven by an IS sympathizer plowed through crowds during Bastille Day celebrations.
Also in July, two Islamic radicals murdered Father Jacques Hamel at Saint-Etienne-du-Rouvray in northern France, cutting the 85-year-old priest's throat.
You can share this story on social media: