Man born without left hand gets one in 'first-of-its-kind' surgery in Poland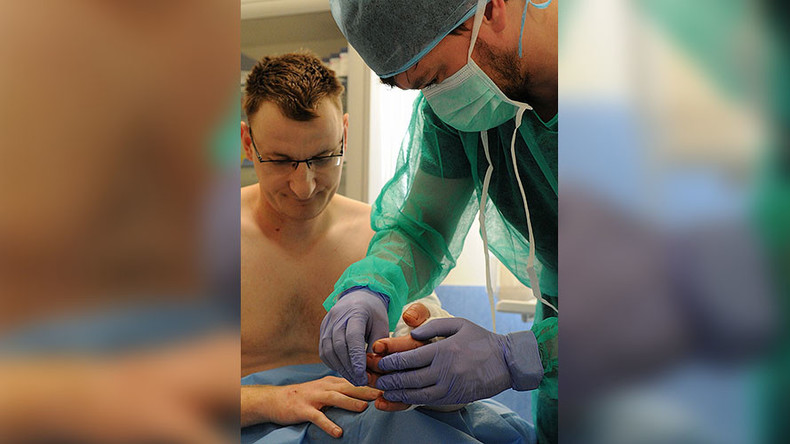 Polish doctors say they have successfully transplanted a dead donor's left hand to a person born without one, claiming that the surgery is a world first. The patient is reportedly already able to move his new fingers.
The surgery, which involved transplanting a left hand onto a 32-year-old man, was conducted at Wroclaw Medical University Hospital in Poland, a statement from the facility said on Thursday.
The recipient's name was not revealed.
The hospital said it was the first surgery of its kind in the world, as previously only those who had lost hands received transplants, rather than those born without them.
"We were dealing with entirely different anatomical structures, blood vessels, nerves, muscles and tendons, of which the donor had more than the recipient," said Adam Domanasiewicz, who headed the team of surgeons at Wroclaw Medical University Hospital.
READ MORE: High five! Hand transplants offered for free on NHS
The procedure lasted 13 hours. One group of surgeons was responsible for removing the hand from the donor, with the other group - headed by Domanasiewicz - then attaching the hand to the recipient.
After the surgery, the patient moved his fingers, the hospital said, adding that he does not yet have full mobility in the new hand, as his brain has to adjust.
Domanasiewicz later told AFP that the surgery was "the first graft in the world of an upper limb onto an adult with this congenital defect."
"We are talking about a man who lived 32 years without this [hand]," he said. "It is an important breakthrough in neurophysiology and the practice of transplants because up to now it was thought that - in the case of this type of congenital defect - such grafts could not be done."
Successful hand transplants have been carried out since the 2000s. After the transplant, the recipient takes the fingerprints of the donor. The new limb must match the patient in terms of skin tone, arm size, blood type and immunology.
Before being accepted for the procedure, patients have to go through extensive psychological screening to ensure they can cope with seeing a stranger's hand at the end of their arm.
During the first stage of the procedure, bones are connected with metal plates and screws. The surgeons then connect key tendons, muscles and blood vessels, including the main arteries in the upper arm. When blood circulates to the limb, the remaining nerves, tendons and muscles are attached before the skin is closed.