Afriqiyah hostage situation: Maltese authorities quiz Libyan hijackers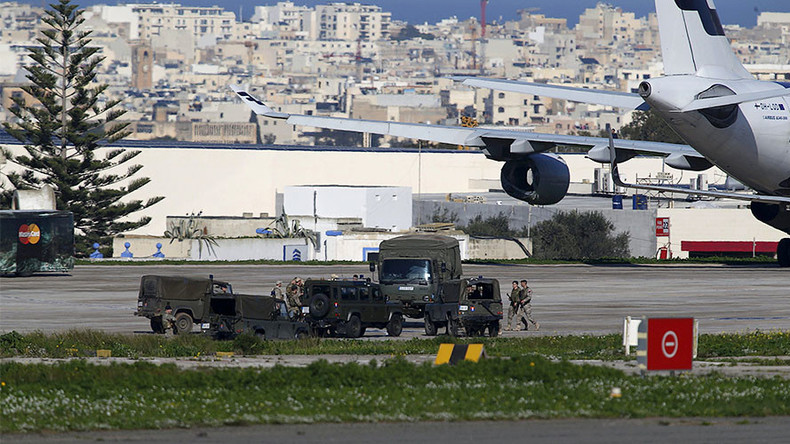 Two hijackers who seized control of an Afriqiyah Airways flight in Libya have released all passengers and surrendered to authorities. Described as being from the pro-Gaddafi group Al Fatah Al Gadida, the suspects had diverted the Airbus 320 to Malta.
23 December 2016

17:59 GMT

Although earlier reports indicated the hijackers were armed with a hand grenade and pistols, PM Muscat has said initial forensic exams have shown the weapons were replicas.

17:27 GMT

Malta's President Marie-Louise Coleiro tweeted that she was "so pleased that all's well that ends well re #Afriqiyah hijack."

"Heartfelt thanks to #Malta's authorities & all security & emergency services," she added.

16:18 GMT

It was revealed at the press conference that no demands were made during negotiations with the hijackers, who Maltese Prime Minister Joseph Muscat described as being "probably of Libyan nationality."

The hijackers had asked for peace negotiators to board the plane during the hijacking but this was denied, Muscat said.

He confirmed the hijackers handed over a hand grenade and a pistol as part of their surrender, while a follow-up search by the armed forces resulted in the discovery of a second pistol.

15:27 GMT

Armed forces have entered the plane for a final sweep. PM of Malta Joseph Muscat has announced he will speak at a press conference shortly.

14:46 GMT

The hijackers have now left the plane along with the crew members, Prime Minister Muscat confirmed. One hijacker was seen being led away in handcuffs by security forces.

Muscat added that the hijackers have "surrendered."

14:34 GMT

In an interview with Libyan TV, one of the hijackers said: "We took this measure to declare and promote our new party."

14:33 GMT

You can watch a live feed of the unfolding situation in Malta via the Ruptly feed below.

14:25 GMT

The mayor of Sabha, Colonel Hamed al-Khayali, told the BBC that a hijacker is seeking political asylum in Malta, though all demands are not yet fully known.

14:19 GMT

One of the hijackers told Libyan media he is the leader of a 'pro-Gaddafi' party, Reuters reports.

14:08 GMT

Both hijackers are demanding the creation of a 'pro-Gaddafi' party, Al-Saghir, who spoke to a passenger, told Reuters.