Indian protester tries to burn 'effigy', accidentally sets himself on fire (PHOTOS)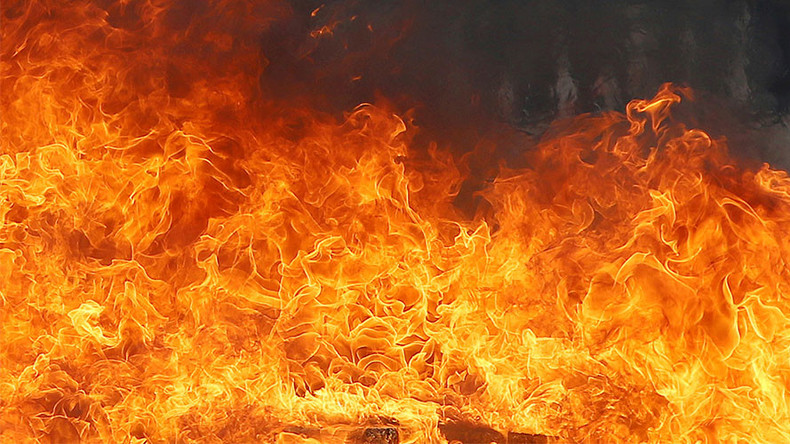 A man has been left with severe burns after a failed attempt to burn an 'effigy' at a protest in India. Samarjeet Singh was jumping on the representation of the state government when the fire spread.
The 35 year old was protesting conditions for 7,800 teachers in the city of Bathinda, who have seen their work conditions deteriorate due to lack of regulation in the industry.
The Punjab News Express claimed Singh poured petrol over himself before jumping onto the flaming 'effigy', although this has been disputed by other witnesses, who said he was stamping on it when he caught fire.
Photos of the incident show a panicked Singh attempting to shield himself from the flames.
It's reported Singh was taken to hospital having suffered burns to 35 percent of his body. He is, however, said to be in a stable condition.
READ MORE: Woman beaten with stick in India for resisting sexual assault (VIDEO)
Singh was moved from Bathinda hospital to Guru Gobind Singh Medical College in Faridkot, after a senior police superintendent had an argument with a doctor about referring the patient to another hospital, reported The Tribune India.
Punjab humiliated once again.

An EGS teacher, tired of Badal Govt's apathy, sets himself afire in Bathinda!!

Shame on Badal Government.

— AAP Punjab (@AAPPunjab2017) December 21, 2016
Aam Aadmi Party leader Himmat Singh Shergill described the incident as "extreme," as well as demonstrating how "the youngsters have to burn themselves to make government listen to their genuine demands."
Singh was part of a group of protestors from the Shaheed Kiranjit Kaur EGS (Education Guarantee Scheme) Teachers Union who were marching towards Fauji Chowk in the center of Bathinda, when the incident happened.
The teachers haven't been paid for six months, with their current wage supposed to be just 5,000 rupees (US$73) per month, according to union leader Sukhchain Singh.
A meeting between the union and government representatives this week resulted in no agreement, according to the Hindustan Times.