Berlin attack: 5 most important facts about Tunisian suspect as manhunt underway
Published time: 22 Dec, 2016 14:04
Edited time: 22 Dec, 2016 17:03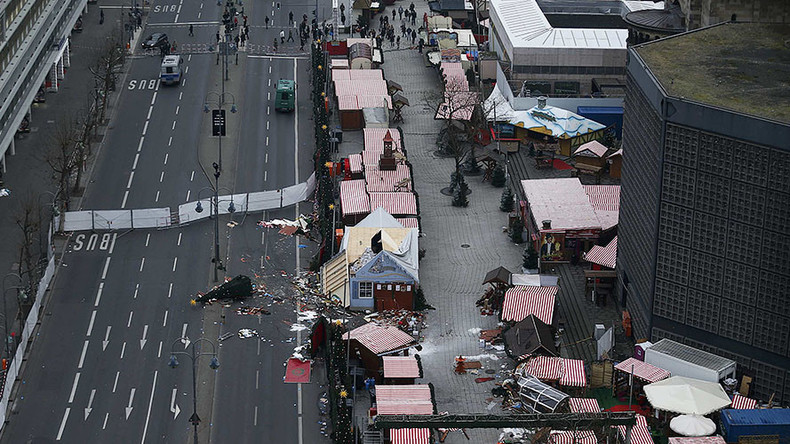 The Tunisian suspect, believed to have carried the truck attack in Berlin which took 12 lives, is still on the loose and may be armed. RT sums up what is known of the fugitive as round-the-clock manhunt is underway all across Germany.
FOLLOW RT's LIVE UPDATES: Berlin Christmas market attack

A Europe-wide arrest warrant was issued by German authorities on Wednesday after several failed attempts to detain the suspect in hot pursuit. The move comes amid intense pressure from the public, demanding an explanation as to how a man known to secret services for months managed to escape their radar.
So far, the official position is that he was only identified as a prime suspect because he left his ID in the truck cabin.
Who is he?
The arrest warrant was issued for a 23-year-old Tunisian national Anis Amri. He became the prime suspect after investigators found his identity documents in the truck he allegedly drove into the crowd at the Christmas market in Berlin. Amri reportedly has six aliases under three different nationalities – Tunisian, Egyptian and Lebanese.
He is described as a man of average height and weight, with black hair and brown eyes.
Immigration background in Germany
It is not immediately clear when Amri entered Germany. On Wednesday, the interior minister of the state of North-Rhine Westphalia, Ralf Jaeger, said the suspect had been living in that region before moving to Berlin in February this year.
He also said the man had applied for asylum, but his request was turned down. On July 30, Amri was caught by police in a bus in Friedrichshafen, and then sent to a detention center to wait for deportation. Two days later, he was released, but the deportation was not carried out, according to Spiegel.
The authorities apparently ran into bureaucratic hurdles while trying to repatriate him.
"The man could not be deported because he had no valid ID papers," Jaeger explained. Germany requested Tunisia issue a new passport for Amri so he could be deported, but in a grim irony, that ID only arrived on Wednesday, two days after the attack.
"I will not comment on this any further," he added.
Berlin market attack: Police searching for Tunisian man after finding ID in truck – reports

Known to police
Since March 14, Amri has been known to German security agencies as an "Islamist threat" due to his contacts to German Salafist radicals. The man was investigated in connection to terrorism charges as federal security agencies have long assumed that he was capable of committing a serious crime.
From March until September, Amri was on spy watch and his communications were wiretapped, the Berlin prosecutor said. According to ARD, investigators also looked at Amri's contacts with Abu Walaa, believed to be the most-wanted Islamic State (IS, formerly ISIS/ISIL) operative in Germany.
After conducting surveillance for several months, the authorities failed to find evidence to substantiate the claim, calling off wiretapping in September.
"Security agencies shared their findings and information about this person with the Joint Counter-Terrorism center, most recently in November 2016," Jaeger was quoted as saying by Deutsche Welle.
There was also a suspicion that he planned a burglary to purchase of automatic weapons, he added.
Amri was also tracked by the US intelligence, according to the New York Times. He had reportedly searched for information on making explosive devices and had communicated with IS at least once, via the Telegram messenger app, said an American security official who spoke on condition of anonymity. He was also on a US no-fly list.
Prison term in Italy
Amri arrived in Italy in 2011 via the infamous island of Lampedusa, but he failed to stay out of trouble. He was jailed after setting fire to a school, La Stampa reported.
He was sentenced to four years in prison, according to the newspaper, and the Italian authorities sought to deport him once his prison term was over. However, Tunisian authorities failed to recognize him as their national, the newspaper reported. He was released from a deportation center in Italy and then moved to Germany.
€100,000 reward
German police have offered a reward of €100,000 (US$104,260) for information leading to Amri's arrest. Law enforcement agencies say he may be armed and is dangerous, according to a statement from the Federal Prosecutor's Office (GBA).