Berlin Christmas market attack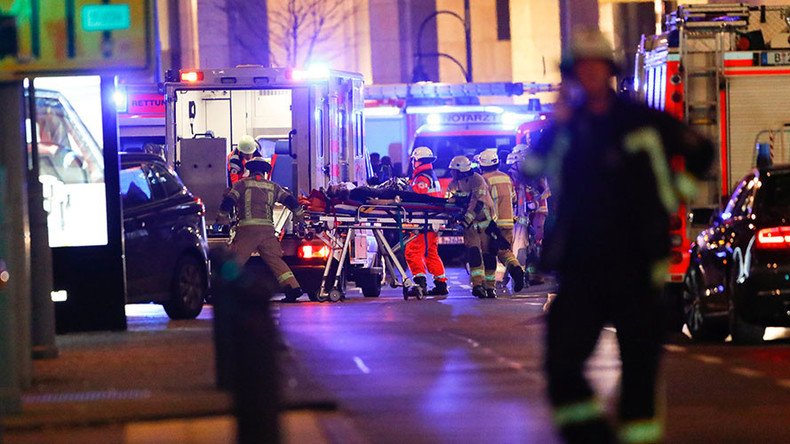 At least 12 people have been killed and several injured after a truck drove into a Christmas market in western Berlin in a suspected terrorist attack.
23 December 2016

13:10 GMT

Meanwhile, Milan police say they had received no information warning them that Amri could be in the city, according to Reuters. "We had no intelligence that he could be in Milan," Police Chief Antonio De Iesu said at a news conference. "They had no perception that it could be him, otherwise they would have been much more cautious."

13:09 GMT

Peter Frank, Germany's federal prosecutor, told reporters later on Friday that the investigation is far from over. Investigators will focus on uncovering Amri's contacts to determine if he had accomplices or was a member of a terrorist network. He added that it is also crucial to know how Amri had got to Italy despite suggestions that his injuries would have prevented him from covering long distances.

09:35 GMT

A suspected perpetrator behind the Berlin Christmas market attack was killed during a shootout in Milan, Italy, Reuters reports, citing a security source.

The Italian interior minister will hold a news conference in Rome at 09:45 GMT, Reuters said, citing the ministry.

The information that Anis Amri died in a shootout with police on Thursday night first appeared in the Italian Panorama magazine.

09:19 GMT

A man whose appearance matches the description of the suspected perpetrator behind the Berlin Christmas market attack has been spotted in the city of Aalborg in northern Denmark, local police tweeted. According to police, the man, aged between 20 and 30, was "wearing a black hat, glasses, black beard and was unshaven."

Police have warned people to keep away from the area where he was spotted.

Mand med signalement svarende til gerningsmanden fra hændelsen i Berlin den 191216, er observeret i området omkring Eternitten i Aalborg

— Nordjyllands Politi (@NjylPoliti) December 23, 2016

01:35 GMT

Thirty patients have been discharged from hospitals following the Monday night attack, Berlin's state government announced.

Twelve people are still being treated for "severe" injuries in various hospitals. An unspecified number of them are still in a critical condition. Another 14 people are also receiving medical treatment for less serious injuries.

Earlier on Thursday, Berlin's state health ministry revised the number of victims being treated in Berlin hospitals to 56, up from 48.

00:07 GMT

A French female citizen is among those who were injured in Berlin's Christmas market attack, the Paris prosecutor's office said, announcing the initiation of its own investigation.

A spokesperson for the prosecutor's office, Agnes Thibault-Lecuivre, provided no further details about the victim or the extent of her injuries, AP reported.

22 December 2016

20:02 GMT

Anis Amri, who is suspected of carrying out the truck attack in Berlin, initially planned to travel to Syria and join Islamic State (IS, formerly ISIS/ISIL) there, Germany's Sueddeutsche Zeitung daily reported, adding that he also underwent training in Germany alongside other extremists.

17:33 GMT

Investigators believe that Tunisian suspect Anis Amri was indeed behind the wheel of the truck that plowed into the Christmas market in Berlin on Monday, a spokesperson from the German Federal Prosecutor's Office told journalists, adding that an arrest warrant has officially been issued against him.

Earlier, German Interior Minister Thomas de Maiziere said during a joint press conference with Chancellor Angela Merkel that fingerprints and other "new evidence" made it "highly probable" that Amri was the perpetrator of Monday's attack.

14:40 GMT

German Chancellor Angela Merkel has praised the actions of police during the investigation of the Monday attack on the Christmas market, and expressed her hope that the perpetrator would be arrested in the near future. Merkel was holding a press conference together with Justice Minister Heiko Maas and Interior Minister Thomas de Maiziere.

Merkel then stressed that Germany had made great efforts to be able to counter terrorist threats more effectively. She expressed her confidence that the German people "would overcome this challenge together" as they can now rely on more professional security services and still stay committed to the "values of democracy and rule of law."

03:22 GMT

German authorities had been tracking the main suspect in the Berlin attack for months before calling off surveillance operations on the 24-year-old Tunisian, Anis Amri.

Amri arrived in Germany in July 2015, at the height of the refugee influx, after serving a four-year prison term in Italy, Ralf Jaeger, the interior minister of North Rhine-Westphalia said, according to AP.

Since February this year the Tunisian was able to move freely around Germany, after registering near the Dutch border. All that time, Amri had been living mostly in Berlin, Jaeger noted.

The main suspect in the attack had been added to a list of potentially violent Islamic extremists. Prosecutors in Berlin even launched an investigation into the potential threat posed by Amri on March 14 following a tip from federal security agencies.

The tip warned that the Tunisian might be planning a possible future attack and had been seeking to purchase automatic weapons. After conducting surveillance for several months, German authorities failed to find evidence to substantiate the claim, calling off surveillance on Amri in September.

"Security agencies exchanged information about this person in the joint counter-terrorism center, the last time in November," said Jaeger.

Jaeger also revealed that the suspect's asylum application had been rejected in July, but authorities failed to deport him because the 24-year old didn't have valid identity papers. In August migration authorities made an effort to help Amri secure a replacement passport.

"Tunisia at first denied that this person was its citizen, and the papers weren't issued for a long time," Jaeger said."They arrived today."