'Al-Nusra Front follower' interrupts children's Christmas play in Austria to preach from Koran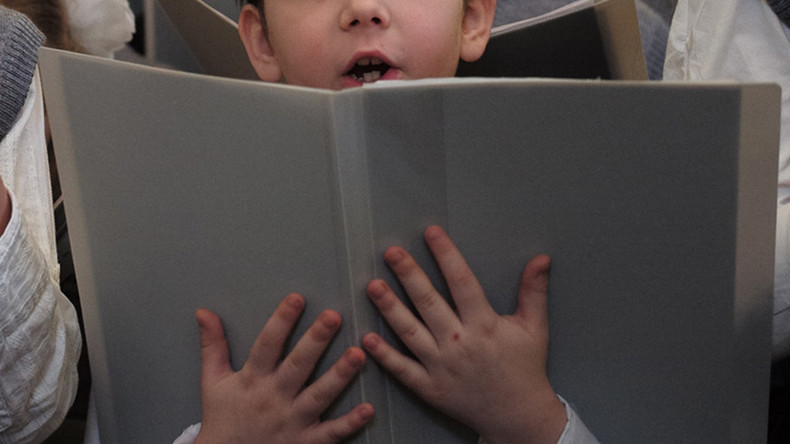 A kindergarten Christmas play in Austria took an unexpected turn when an asylum seeker claiming to be a follower of Al-Nusra Front militant group stormed the stage and started preaching from the Koran. He was arrested soon after.
A video posted online by Heute newspaper shows the 24-year-old Somali refugee entering the stage while the young children were performing for their parents on Sunday. Many audience members believed it was part of the play at first, according to Mayor Rupert Imlinger, who was present at the performance in Oberndorf.
The man continued to pull a Koran from his backpack and began "gesticulating loudly," according to the Local, scaring both children and parents.
Two men from the audience were able to restrain the man, who fought them while shouting "Allahu Akbar." They were joined by several other fathers in the audience, including a policeman, and were able to take the man outside.
Police at the scene said they recognized the man as someone who had been living in the area for two years. They said he suffers from manic depression and is receiving treatment for it. Local media reported that the man had seemed "confused."
Witnesses were worried about possible weapons in the man's backpack, but police later confirmed that "no suspicious items were found during a voluntary review of the 24-year-old's accommodation."
The refugee was arrested on Tuesday after telling authorities that he is a follower of Al-Nusra Front. A public prosecutor confirmed that an investigation has been launched into whether he is a member of the organization, and if he poses a danger to the public.
Anti-migrant sentiment has been strengthened in Austria following a string of crimes committed by asylum seekers, including the 2015 rape of a 10-year-old child at a swimming pool in Vienna.
Data released in September by Krone newspaper found that some 11,158 asylum seekers were suspected of committing offenses in the country in the first half of 2016, compared to 15,236 in the whole of 2015.
Austria saw some 90,000 asylum seekers arrive in 2015, amid the wider European refugee crisis.