Ancient tomb's awesome astrological light show draws crowds (PHOTOS)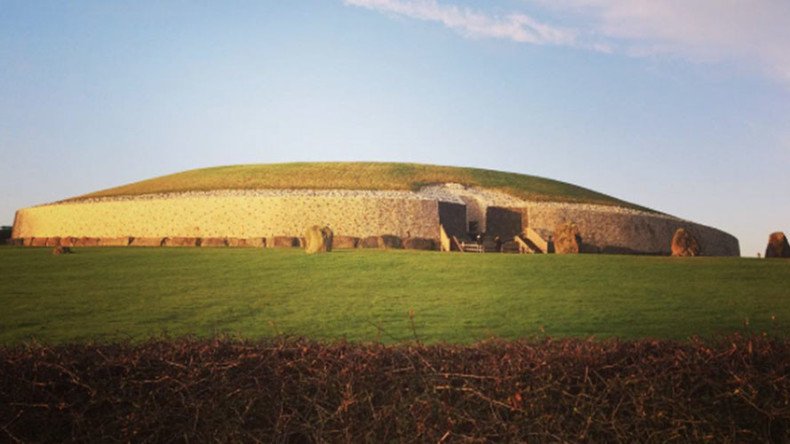 An astounding display of astrological genius by the ancient Irish - best showcased by the once-a-year illumination of a giant prehistoric tomb - has been scuppered by bad weather.
The highly-anticipated 5,000-year-old sun ritual, which occurs annually on the shortest day of the year (December 21), sees a beam of light travel up the burial monument's narrow passageway before lighting up its main chamber for 17 minutes.
However, the majesty of Newgrange - an engineering masterpiece and a focal point in Ireland's rich tapestry of mythology - is still weather-dependent. Overcast skies and rain meant the light show never came to pass.
The Newgrange passage tomb in County Meath is one of Ireland's greatest known historical monuments, and was due to take center stage on Wednesday.
While the circular tomb's megalithic carvings and large stone trappings are an incredible feat of Neolithic engineering, it is the 3200 BC monument's relationship with the sun that was due to grab headlines on December 21.
Sixty "solstice lottery" winners were set to gather at dawn inside the tomb's chamber to watch as the sun aligns with its entrance and travels up its narrow passageway. Those lucky winners, however, were left disappointed.
The somewhat mystical annual event has its origins in the mists of ancient Ireland and marks the shortest day of the year in the Northern Hemisphere, when the sun drops to its lowest point in the sky.
Lasting around 17 minutes, the phenomenon begins at sunrise and provides proof settlers were not ignorant to Earth's astronomical movements.
"As the sun rises higher, the beam widens within the chamber so that the whole room becomes dramatically illuminated," the Newgrange website states. "The accuracy of Newgrange as a time-telling device is remarkable when one considers that it was built 500 years before the Great Pyramids and more than 1,000 years before Stonehenge."
According to the official website for the UNESCO World Heritage site, the 85-meter diameter structure was erected by Stone Age farmers to "mark the beginning of the new year."
Undergoing significant restoration with the help of Irish archaeologist M J O'Kelly in the 1960s and '70s, the tomb may also have been a symbol of life after death.
While the giant circular pagan monument almost certainly acted as a reminder of the year's end, World Heritage of Ireland points out that the area also has magical connotations having featured in early Irish stories about fairies and supernatural beings known as the Tuatha De Danann.
"In the old stories, the name given to the monument was SÁ in Bhrú, the Fairy Mound of the Brú," the conservation site explains.
You can share this story on social media: