Ukrainian MP calls Russian ambassador's killer 'a hero,' FB reacts with outrage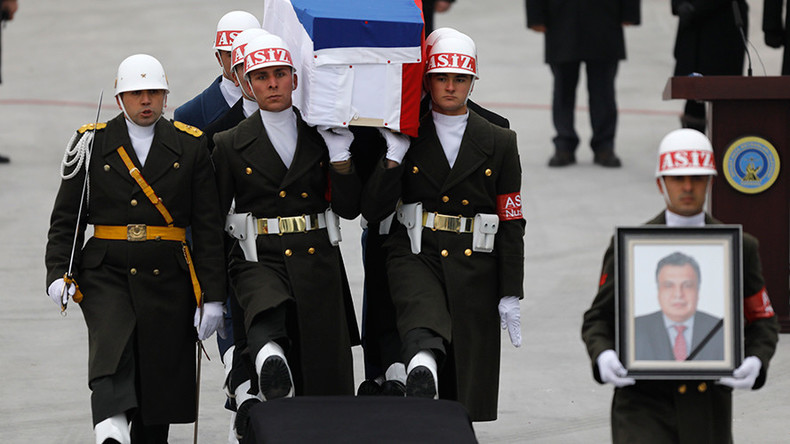 Ukraine's official reaction to the assassination of Russia's ambassador in Ankara has been cool to say the least – no condolences have come from President Poroshenko. However, it is the reaction of an Ukrainian MP on Facebook that has caused real outrage online.
The Ukrainian president devoted five tweets to the Berlin tragedy, but did not post a single one to condemn the killing of Russian ambassador to Turkey, Andrey Karlov.
Ukrainian Foreign Minister Pavlo Klimkin began by condemning the "horrors" he alleges Russia is committing in Aleppo, though he added that this was "no excuse" for murdering the ambassador.
1/2 Russia has been responsible for horrendous violations of human rights & the murder of thousands innocent people in Syria & Ukraine.

— Pavlo Klimkin (@PavloKlimkin) December 19, 2016
2/2 This, however is no excuse 4 the murder of the ambassador of one sovereign state to another. Int law and human rights must be respected!

— Pavlo Klimkin (@PavloKlimkin) December 19, 2016
The lukewarm response prompted some of Klimkin's Twitter followers to question whether he is actually a "real diplomat" or not.
"Only a Ukrainian politician can offend his country by such a statement," one person wrote, while other comments said: "Your colleague has just been murdered," and "Shame on you."
Meanwhile, Ukrainian parliament (Verkhovna Rada) member Volodymyr Parasyuk hailed the assassin as "a hero" on his Facebook page.
In his post, Parasyuk displayed a split screen of the Turkish assailant juxtaposed with Mykola Lemyk, a Ukrainian political activist and a member of the Organization of Ukrainian Nationalists (OUN). In 1933, Lemyk assassinated Aleksey (Andrey) Mailov, a Soviet diplomat. It is believed that Stepan Bandera, who collaborated with the Nazis during WWII in an attempt to form an ethnically pure and independent Ukrainian state, was the mastermind behind the assassination.
Responding to a comment in which he was asked if those who launched the 9/11 attacks were also heroes, Parasyuk called on his followers to "remember the deaths in Aleppo."
"Parasyuk is the shame of the Ukrainian nation," one person responded in a comment, while another said: "Where is the heroism? To strike an unarmed man in the back?"
"The whole world calls it a terrorist attack. And only a Ukrainian MP calls the assailant a hero. An official who supports terrorism," one more user wrote.
"He's done nothing for Ukraine," "he should be in prison," said other comments. Some people were so outraged that they resorted to obscenities to express their anger.
Until September 2014, Parasyuk was one of the commanders of the notorious Dnipro-1 battalion that fought in eastern Ukraine. The military unit was accused of blocking humanitarian aid intended for eastern Ukraine by Amnesty International.
Many Ukrainians, including public figures, expressed their condolences over the assassination of the Russian ambassador. People approached the offices of the Russian Federal Agency for Commonwealth of Independent States Affairs, Compatriots Living Abroad and International Humanitarian Cooperation in Ukraine, to lay flowers and leave messages expressing condolences, TASS reported. Ambassadors to Ukraine from various countries also joined the commemoration.
"All sensible people in Ukraine regard it … as a crime against humanity," Ukrainian journalist and author, Igor Kruglov, told TASS as he denounced the assassination by calling it "an outrageous misdeed."
Condemnations of the assassination and words of condolences have been pouring in from around the world since a Turkish riot police officer shot Ambassador Andrey Karlov to death in Ankara on Monday. Numerous world leaders, including US President-elect Donald Trump, French President Francois Hollande, and Japanese Prime Minister Shinzo Abe, have expressed condolences to Russia over the killing.
READ MORE: Savage, heinous, despicable: World reacts to killing of Russian ambassador in Turkey
The White House, the US Department of State, the EU's high representative for foreign policy, Federica Mogherini, US envoy to the UN Samantha Power, and UK Foreign Minister Boris Johnson have been among those who have condemned the murder and expressed their grief.
Karlov was shot dead as he was speaking at the opening of an exhibition called 'Russia in the Eyes of Turks' at an art gallery in Ankara. The gunman has been identified as 22-year-old Mevlut Altintas, a member of Ankara's riot police force.