Savage, heinous, despicable: World reacts to killing of Russian ambassador in Turkey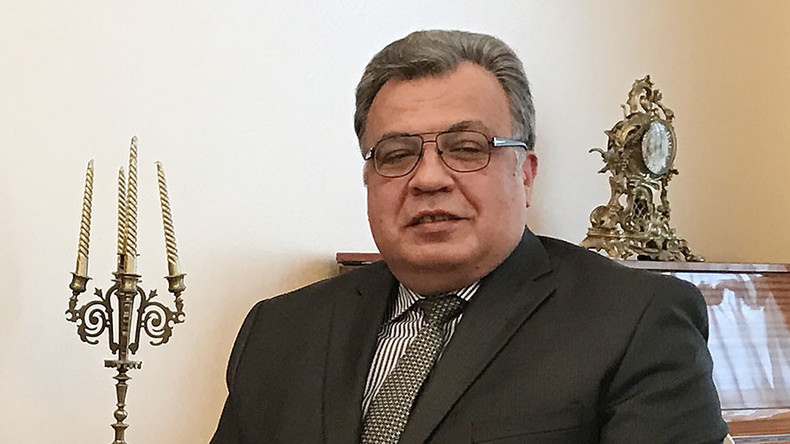 Condemnations of the attack that killed the Russian ambassador and words of condolences are pouring in from around the world after a Turkish police officer killed Ambassador Andrey Karlov in Ankara.
Karlov was shot as he spoke at the opening of the exhibition "Russia in the eyes of Turks" at an art gallery in Ankara, the Turkish capital. The gunman has been identified as Mevlut Altintas, member of the Ankara riot police.
READ MORE: Russian ambassador shot dead in Ankara (LIVE UPDATES)

One of the first statements of sympathy came from the EU High Representative for Foreign Policy Federica Mogherini, according to the Russian Foreign Ministry.
"I was deeply shocked to hear of the inconceivable attack against Ambassador Andrei Karlov in Ankara this afternoon. Our fullest sympathies are with his family, all his colleagues, and the Russian authorities," said Mogherini. "The European Union condemns in the strongest possible manner this attack against your country's representative in Turkey. We wish to express our solidarity with Russia in the face of this criminal act of violence."
UK Foreign Minister Boris Johnson said he was shocked by the "despicable murder" of Russia's ambassador, and condemned the "cowardly attack."
"We condemn the gun attack on the Russian ambassador to Turkey. There can be no justification for an attack on a diplomat or an ambassador," said UN spokesman Stephane Dujarric. "We hope that the perpetrator will be brought to justice."
The White House offered condolences to Ambassador Karlov's family and the people of Russia, strongly condemning the assassination.
"This heinous attack on a member of the diplomatic corps is unacceptable, and we stand united with Russia and Turkey in our determination to confront terrorism in all its forms," said National Security Council spokesman Ned Price.
The US Department of State had "seen reports" that "Karlov and others have been attacked by a gunman," said spokesman John Kirby. "We condemn this act of violence, whatever its source. Our thoughts and prayers are with the victims and their families."
US envoy to the UN Samantha Power condemned the "savage attack" on Karlov and "several other people."
Washington's ambassador in Ankara, John R. Bass, condemned the "heinous attack" against Karlov.
President-elect Donald Trump also expressed his condolences to the family of the ambassador.
"I roundly condemn the assassination of the Russian ambassador to Turkey," wrote Spanish Prime Minister Mariano Rajoy. "Terrorism has no place in a democratic society."
"I condemn the assassination of Russia's ambassador to Ankara. This is an attack on Turkey's stability and international prestige," said a tweet posted by former Turkish Prime Minister Ahmet Davutoglu.
There is no justification for such a "heinous act," tweeted NATO Secretary-General Jens Stoltenberg, extending his condolences to the ambassador's family "and the Russian people."