'Hard to get inside Mosul, over 1mn people still trapped amid op' – Oxfam representative to RT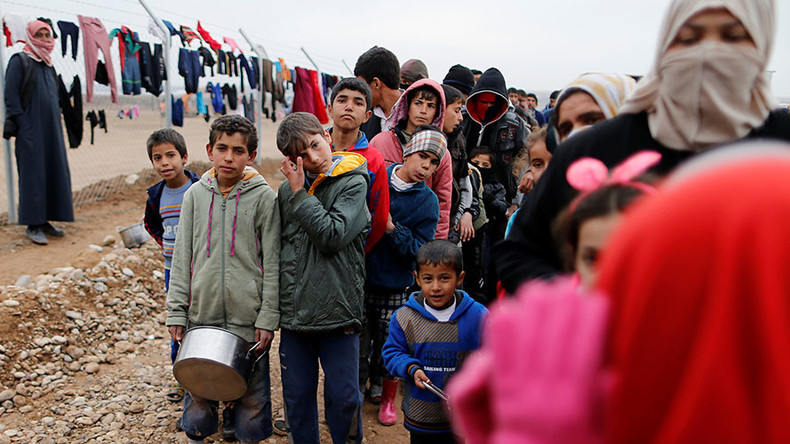 Humanitarian organizations face serious difficulties in delivering aid to people inside Iraq's Mosul amid the US-backed operation against Islamic State, Oxfam spokesman who returned from Iraq told RT. Over 1 million people are still trapped in the city.
"Unfortunately, it's very difficult for humanitarian agencies like Oxfam to get into Mosul itself," Kai Tabacek, Oxfam's digital press officer said in an interview to RT. He returned just a month ago from the area of Irbil, which is 90 kilometers from Mosul.
According to Tabacek, some 100,000 people have managed to flee the violence in Mosul, yet approximately 10 times more are still in the city and facing a "dire humanitarian situation."

After almost two months of operation to liberate Mosul "we have more than 100,000 people who have fled the city and surrounding areas," the Oxfam representative said. "Still more than a million people, we believe, are trapped inside Mosul and they are at risk from being caught by sniper fire, explosive devices. And it's really important that all sides in this conflict provide safe escape routes for those people to leave."

Mosul was captured by Islamic State (IS, formerly ISIS/ISIL) back in 2014 and later turned into a self-proclaimed capital of the jihadists in Iraq. The operation to retake the key city started on October 17, with tens of thousands of Iraqi military, special forces and militias taking part. The mission is also supported by the US-led international coalition.
"The situation is not great, particularly with winter arriving in Iraq," Tabacek said. Yet "so far most of the displaced families leaving Mosul have been able to access some form of assistance from Oxfam and from others [humanitarian organizations]."
The Oxfam press officer also noted that it's crucial for all sides to avoid using heavy weaponry inside the city since it puts civilian lives at risk.

"It's very worrying when there is a conflict that close to where the people are living and we've seen in other places and in Mosul so far, the way ISIS seem willing to use people as human shields," Tabacek warned.

He also said that liberating Mosul won't automatically eliminate the humanitarian crisis in the area: "More than 3 million people that are displaced in northern Iraq. And that's not only from Mosul, that's a number of other areas that have been recaptured in the last few years. This is a crisis that is not going to go away anytime soon," Tabacek said.

Meanwhile, the operation to retake Mosul has slowed down in the past weeks since the Iraqi army and militias are going deeper into the city. In addition, an early December report by Debkafiles, a military intelligence news site with links to the Israeli military, said Islamic State is now mulling to stay put in their Iraqi stronghold. According to the report, a delegation of IS commanders arrived in Mosul on December 4, to discuss synchronizing the city defenses with those of Raqqa in Syria. Mosul commanders have "changed course about leaving the city and decided to stay put," the paper said.
READ MORE: Pentagon pens ground op plans for Mosul as campaign falters – DEBKA