US-led coalition strikes Mosul hospital turned 'ISIS command & control HQ'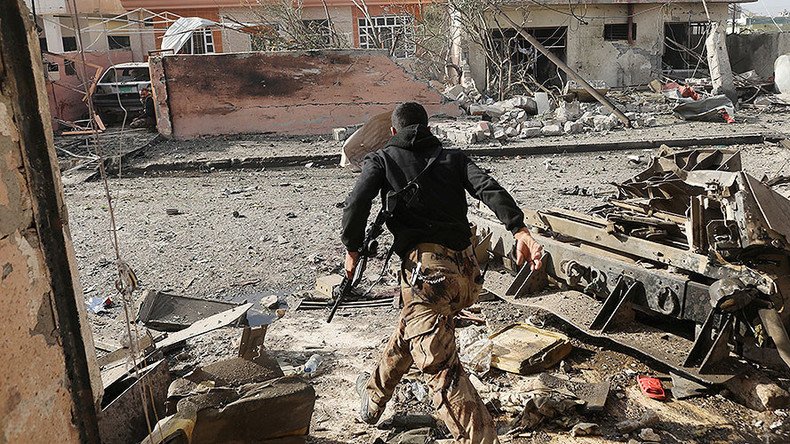 The US-led coalition has conducted an airstrike on a hospital building in Mosul after Iraqi forces fell under fire coming from the complex and requested support. According to the US Central Command, all feasible precautions were taken to avoid civilian casualties.
As Iraqi forces continue their offensive to retake Mosul from Islamic State (IS, formerly ISIS/ISIL), the ground operation has slowly progressed into the city, with the army retaking several neighborhoods in the east of the Iraqi megapolis.
However on Tuesday, Iraqi Security Forces were ambushed by the terrorists as government troops tried to recapture Al Salem hospital complex. The five-story building, local residents told AFP, is being used by jihadists as a command center for operations. The hospital roof is reportedly notorious as a sniper position in the eastern part of the city.
To crush IS resistance in the area, the 9th Armoured Division was sent to secure the Al Salam hospital. Reaching the furthest into the ISIS-held Mosul since the start of the offensive on October 17, the division became almost immediately surrounded by terrorists.
"Daesh waited until night to attack the troops," Iraqi Army Sgt. Maj. Hakim Saranbii told Associated Press. He added that the attacks "inflicted heavy losses," without giving specific casualty figures or further details.
To fend off the attack, the Iraqi army called for the US-led anti-ISIS coalition to lend a hand with air support, which came the following day, on Wednesday.
"On Dec. 7, after Iraqi forces continued to receive heavy and sustained machine gun and rocket propelled grenade fire from ISIL fighters in a building on the hospital complex, they requested immediate support from the Coalition," CENTCOM said on Wednesday.
"In support of the Iraqi Security Forces, Coalition aircraft conducted a precision strike on the location to target enemy fighters firing on Iraqi forces," the statement added stressing that the strike conducted with "all feasible precautions" to reduce the risk of harm to civilians.
The US-led coalition regularly conducts strikes in support of ground anti-terror operations in Iraq and Syria, some of which at times result in civilian casualties. Last week, the coalition officially acknowledged that 54 civilians had been "inadvertently killed" in seven of its strikes between March and October this year. Rights groups however insist that the US understates the civilian death toll, with Amnesty International saying that at least 300 people were killed in just 11 airstrikes probed by the group.
READ MORE: Dozens of civilians killed in air strike near Iraqi border with Syria – reports
On Wednesday, dozens of civilians were killed in an airstrike in the Islamic State-held town of Qaim on the border with Syria, with local MPs and medics saying that many women and children were among the dead. The attack was allegedly carried out by the Iraqi air force, but the US-led coalition has so far denied any links to the deadly attack.
You can share this story on social media: