13 people killed when Indonesian C-130 cargo plane hits mountain (PHOTOS)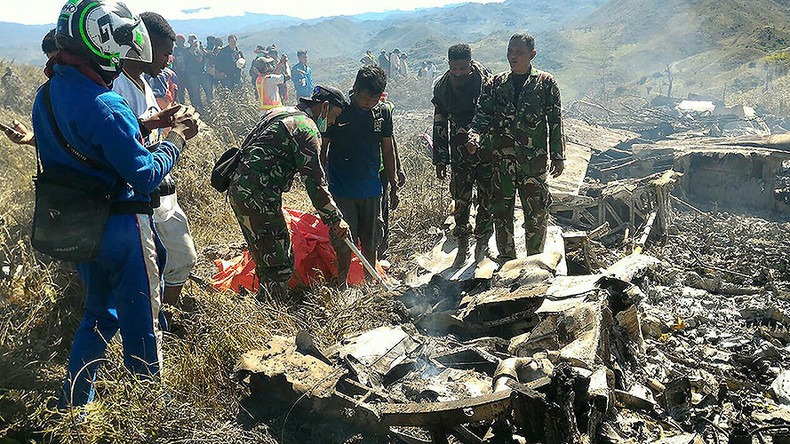 All 13 people on board a Hercules C-130 plane owned by the Indonesian Air Force died after it crashed into a mountain near the town of Wamena in the eastern Papua province not far from the airport on Sunday.
The US-made transport plane departed from the city of Timika at 22:35 GMT and was set to arrive at Wamena airport at 23:13 GMT. However, contact with the aircraft was lost some ten minutes before the scheduled landing, and search and rescue crews were dispatched to the area.
The rescuers who arrived to the crash site about an hour later found no survivors. The jet reportedly hit a mountain called Lisuwa at about 23:15 GMT, Ahmad Riski Titus, operational director of Indonesia's Search and Rescue Agency said, as cited by Reuters.
The bodies of 13 people, all of whom were members of Indonesian Air Force, including three pilots, were recovered and transferred to Wamena.
No official explanation for the incident has yet been given. It was reported that the pilot might have lost control due to bad weather conditions.
"Preliminary estimates indicate that this accident occurred because of the weather, but this should not be a benchmark," Deputy Chief of Staff of the Air Force Marshal Hadiyan Sumintaatmadja told a press conference, in which he sent condolences to the families of the victims.
"Apologies to all the people of Indonesia on this tragedy that we did not want to happen. We pray for the souls of the soldiers accepted by Allah, the Almighty God," he said, as cited by the Rappler.
According to Hadiyan, the plane was on a test mission.
READ MORE: Crashed Indonesian plane had $470,000 in aid for poor families aboard

According to Hadiyan, the plane was on a test mission.
Earlier in December, a plane operated by the Indonesian police crashed into the water near the Riau Islands, killing 12 people.
Last June, another Indonesian C-130 crashed in a residential area of the city of Medan in North Sumatra province, destroying a hotel and killing a total of 141 people, including the crew.