141 people killed as military plane crashes in residential area of Medan, Indonesia (VIDEO)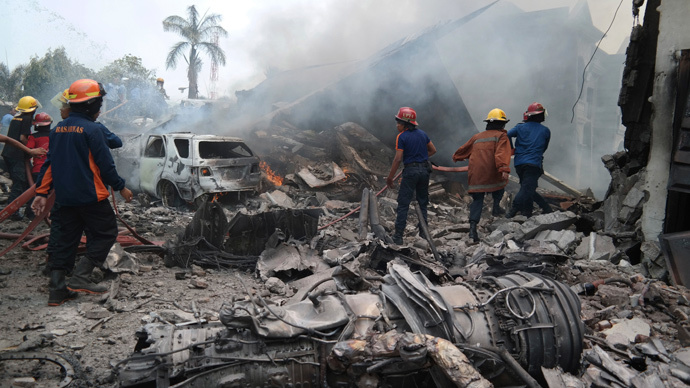 The death toll in the military plane crash rose to 141 people, according to Indonesian police. The aircraft plunged into a residential area in Medan.
#BanjoImages: military cargo plane crashed into residential neighborhood in #Medan #Indonesia ( @kavanoz_dibi)

A video posted by Banjo (@banjoapp) on Jun 29, 2015 at 11:38pm PDT
"We have received 141 bodies," Agustinus Tarigan, a police official at a hospital in the city, told AFP.
The bodies of 72 people were found at the scene of the crash and "were taken to the mortuary for identification," local police spokesman Tim Ante said at a briefing, TASS news agency reported. He added that there were not only the military, but also civilians – their families, including children – on board.
The rescue operation, involving heavy equipment and giant lights is going on into the night, and it may continue until the early hours.
Pesawat Hercules jatuh di jl jamin ginting medan beberapa menit yg lalu....... #pesawat #hercules #jamin_ginting #medan

A video posted by tri wiratama (@triwiratama) on Jun 29, 2015 at 11:53pm PDT
"It passed overhead a few times, really low. There was fire and black smoke. The third time it came by it crashed into the roof of the hotel and exploded straight away," Elfrida Efi, a receptionist at the Golden Eleven Hotel, told Reuters.
She added that the plane also hit a massage parlor, where there are usually a few people during the day.
Pesawat Herkules TNI AU Jatuh di Medan, Lokasi Pemukiman Penduduk http://t.co/f9BErEdZMr via @berita_rri#rrinewspic.twitter.com/aCVx2210bT

— Info Keindonesiaan (@rriwow) June 30, 2015
Twelve crew members were on board the plane, AP reported Indonesian Air Force operations commander Agus Dwi Putranto as saying on local TV. There were 62 passengers on board, local TV reported.

"The bodies were in [the] debris of the plane and buildings... we are taking the bodies one by one by ambulance to [a nearby] hospital," said local Police Chief Mardiaz Dwihananto as cited by AFP. "The bodies have been crushed by debris of the building and the fuselage."
The plane took off 12:08pm (05:08 GMT) and crashed in the city about two minutes later, some 5km (3 miles) from the base, military spokesman Fuad Basya told AFP. He added that the plane was heading to the remote Natuna Islands.
Al-Jazeera correspondent Stephanie Dekker tweeted that the pilots had asked to return to base after take-off as something was wrong with the plane. After the plane turned around, it crashed, Dekker said.
Sebuah pesawat TNI jenis Hercules jatuh di Kelurahan Mangga, Padang Bulan, Medan (30/6/2015) siang pic.twitter.com/N7U1haskAk

— Suku Karo (@karobukanbatakk) June 30, 2015
Photo appears to show site of air force plane crash in residential area of Medan, Sumatra - kondekturbus_ pic.twitter.com/nCsN8vwzxY

— SavageNation (@SavageNation) June 30, 2015
Photos posted online on social media show the scale of the destruction, with black smoke billowing from the crash site, damaged cars and residential buildings in flames. Crowds of onlookers have gathered at the site.
Pesawat Jatuh di Medan, TNI AU Belum Mau Komentar http://t.co/pasJDvAVBNpic.twitter.com/slqfxCxVgz

— METRO TV (@Metro_TV) June 30, 2015
A crash happened in Medan 10 years ago, when a Mandala Airlines Boeing 737 crashed after take-off from the city's airport into a residential community, killing 143 people – 30 of them on the ground.
With a population of 3.4 million, Medan is the third-biggest city in Indonesia, after Jakarta and Surabaya.
#BREAKING: #Indonesia C130 Hercules military plane has crashed in #Medan city pic.twitter.com/IdfqDjYIwt

— Amichai Stein (@AmichaiStein1) June 30, 2015
Warga mengerumuni lokasi jatuhnya pesawat Hercules di Medan, Sumatera Utara foto by @tbmfkusupic.twitter.com/IeaTiVAKOU

— 99.3 DeltaFM Manado (@DeltaFMManado) June 30, 2015
The Lockheed C-130 Hercules is a four-engine military aircraft that can use even rudimentary runways for takeoffs and landings. It is currently the principal tactical airlifter for a lot over 60 nations worldwide, and there are 40 different models of the heavy-duty plane currently in service.
The age and condition of the US-manufactured planes sold across the region raise major safety concerns, according to retired Pakistani general Talat Masood.
'US should sell only those planes which are also supposed to be used in European countries and the Western world. They can't sell one type of planes in countries like Indonesia and other planes to the others,' he told RT.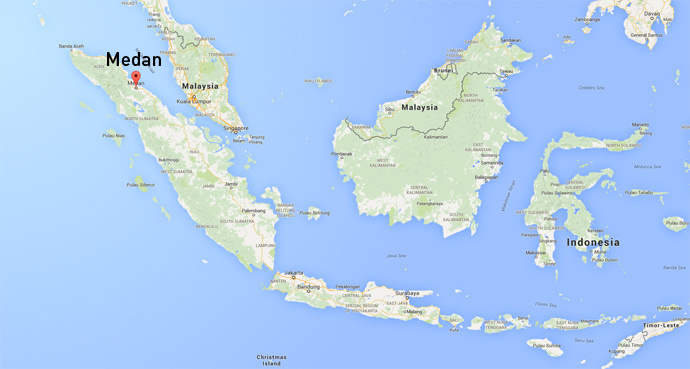 You can share this story on social media: