'Radicalized' 12yo boy tried to blow up German Christmas market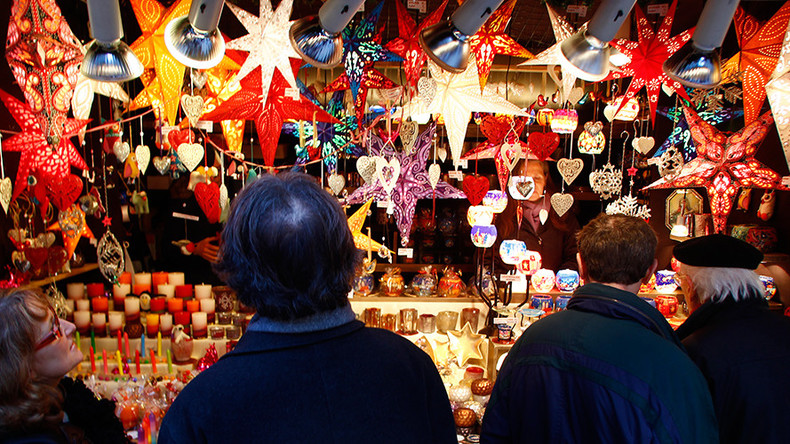 A 12-year-old boy tried to detonate a home-made bomb at a Christmas market in Ludwigshafen, western Germany, local media reported on Friday.
The boy, a German citizen of Iraqi origin, was "strongly religiously radicalized" and had been directed by an unknown member of the Islamic State (IS, formerly ISIS/ISIL), security sources told Focus news magazine.
According to the sources, the 12-year-old first tried to detonate his bomb at the Christmas market on November 26, but when the detonator failed he gave up and went home. He tried again on December 5, hiding the bomb in a backpack and leaving it next to the town hall. However, an eagle-eyed passerby spotted the suspicious package and reported it to authorities, who then sent out a bomb squad to perform a controlled explosion.
The initial police report described the device as rather primitive, consisting of a glass jar filled with fireworks contents that were highly flammable, but not explosive. The outside of the device was also covered in nails.
The would-be junior terrorist, who'd been planning to flee for Syria to join IS since the summer, was subsequently identified and arrested.
"The boy was born in Ludwigshafen, is German-Iraqi, has both nationalities and lives in Ludwigshafen," Frankenthal Chief Prosecutor Hubert Ströber told Bild on Friday morning.
"It is a juvenile delinquent, so the prosecutor's office in this case cannot establish and press charges. That is why we have completed the proceedings this morning and have refused to initiate an investigation against the child. It is now a case for the Youth Office in Ludwigshafen. The General Prosecutor's Office in Karlsruhe will also decide on further steps."
However, the Federal Public Prosecutor has since decided to charge the boy with a serious act of violent subversion and he is currently being held in a youth detention center, Focus reports.
Germany has largely been spared the kind of bloody terrorist attacks that have rocked other European countries such as France and Belgium in recent years. But a series of lesser attacks which have injured a number of people have put the nation on alert.
On July 24, 15 people were wounded in a suicide bombing outside a wine bar in Ansbach. The bomber was a 27-year-old Syrian refugee who had pledged allegiance to IS. Nine days earlier, a Pakistani national with links to IS attacked train passengers in Wurzburg with an ax, wounding five. And on December 8, two teens were arrested in the southern state of Baden-Württemberg on suspicion of plotting an "Islamist-motivated attack."