2 teens planning 'ISIS-inspired' attack arrested in Germany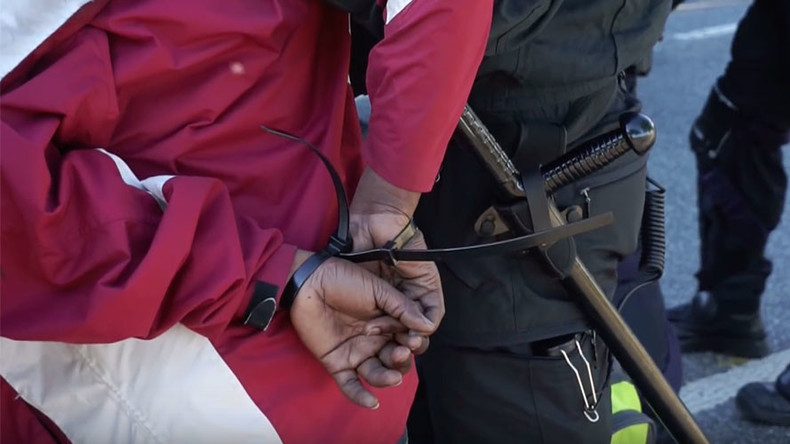 Authorities in the southern German state of Baden-Wurttemberg have detained two teenagers aged 15 and 17 who allegedly plotted to stage Islamic State-inspired attacks on "public institutions."
The arrests of the teenagers took place during raids on Thursday near Aschaffenburg and Mannheim, Baden-Württemberg, all in the vicinity of Frankfurt.
Both teens "were planning an Islamist-motivated attack on a public institution in the district of Aschaffenburg, for which they wanted to procure firearms," Karlsruhe prosecutor's office announced on Friday.
While the identities of the arrested teenagers have not been disclosed, the prosecutors did point out that at least one of those detained had displayed "indications" of mental illness.
However, the authorities said that there were no signs that the accused "at this time had been able to implement the suspected plans." However, they noted that the very planning of an attack still amounts to a crime.
Police said that during the arrests, they recovered extremist propaganda and ISIS flags. The suspects' electronic data storage devices and mobile phones were also confiscated, but no firearms were found.
Germany has been on high alert following a number of terrorist attacks on its territory and across the EU this year.
On July 24, 15 people were injured in a suicide bombing outside a wine bar in Ansbach. The bomber, identified as Mohammad Daleel, was a 27-year-old Syrian refugee who had pledged allegiance to Islamic State (IS, formerly ISIS/ISIL).
Prior to that, some nine days earlier, Pakistani national Riaz Khan Ahmadzai attacked passengers on a train in Wurzburg with an ax and a knife, wounding five.
Anti-terror raids across the country have intensified since then and have led to arrests of suspected IS operatives and people believed to have been influenced by jihadist ideology.
Overall, Europe remains on guard, especially for the holiday season, following a series of deadly terrorist attacks stretching back to 2015.