Terrorism suspect with loaded Kalashnikov & ISIS flag arrested in Rotterdam – reports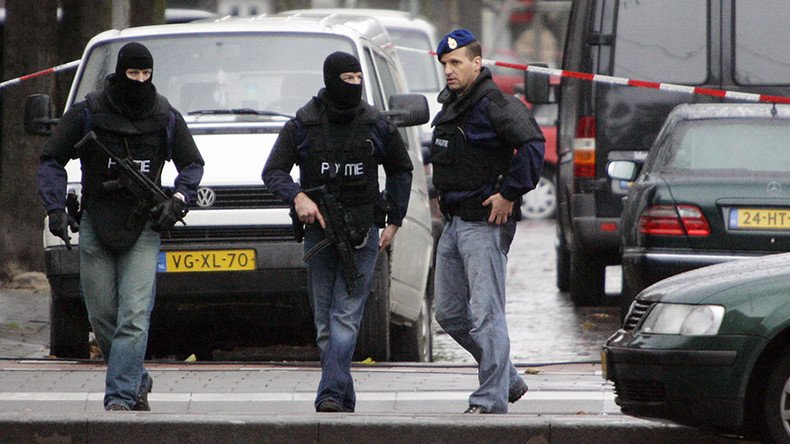 Police have arrested a man in the Dutch city of Rotterdam suspected of planning a terrorist attack, local media reports. Law enforcement found a Kalashnikov assault rifle and an Islamic State flag while raiding the man's house.
According to various Dutch media outlets, the suspect in question was arrested back on Wednesday, when an anti-terrorist unit raided his house and found a Kalashnikov assault rifle with two full magazines.
An Islamic State (IS, formerly ISIS/ISIL) flag was also found in the 30-year-old man's apartment.
"He is suspected of preparing a terrorist crime," prosecutors said in a statement, as cited by Reuters. A law enforcement representative added that the man posed "enough" danger to be detained by the authorities.
Rotterdam: "In zijn woning had hij een kalasjnikov met twee volle magazijnen en een schilderij met een IS-vlag."

Nederland dankzij Rutte. https://t.co/OwCPL2hHBz

— Geert Wilders (@geertwilderspvv) December 9, 2016
Special forces also seized four boxes containing highly explosive firecrackers, the suspect's mobile phone, and some 1,600 euro.
National prosecution spokesman Wim de Bruin said that the investigation into the case is "in full progress."
"At this moment we have only one suspect," he noted, though not ruling out further arrests.
According to the local Limburger media outlet, police initially received a tip off from Holland's Algemene Inlichtingen-en Veiligheidsdienst (AIVD) intelligence agency.
The man will be in custody for two weeks, according to the Dutch media outlet Telegraaf.
While speaking at the meeting of the Ministers of the Organization for the Co-operation in Europe (OSCE) on Thursday, Austria's minister of foreign affairs warned of a rising threat of terrorism in Europe.
Meanwhile, the chief of Britain's MI6 Intelligence service told reporters during a public address in London that jihadists "are plotting ways to project violence against the UK" and its allies.
In October, the head of the German Federal Office for Protection of the Constitution (BfV), Hans-Georg Maassen, warned in a radio interview that Europe may face a backlash from the international coalition's successes against jihadists in Syria and Iraq.
Maassen said that, confronted by the offensive, Islamic State "may alert its supporters in Europe, that it can lead to violent attacks."
Earlier in December, France added a new top warning level to its Plan Vigipirate, the nation's security alert system. The third and highest level, 'Attack Emergency,' is expected to be used if an attack is imminent or immediately following one. If this level is declared, special measures will be taken, such as shutting down the metro system and closing roads.
Europe has been shaken by several severe terrorist attacks over the past year and a half. On November 13, 2015, a wave of bombings and shootings killed 130 people and injured hundreds more in the French capital, while, in March of this year, suicide attacks at the airport and a metro station in Brussels left dozens of people dead and more than 300 injured.
You can share this story on social media: