Arrested German intel agency's Islamist mole 'starred as gay porn actor' – report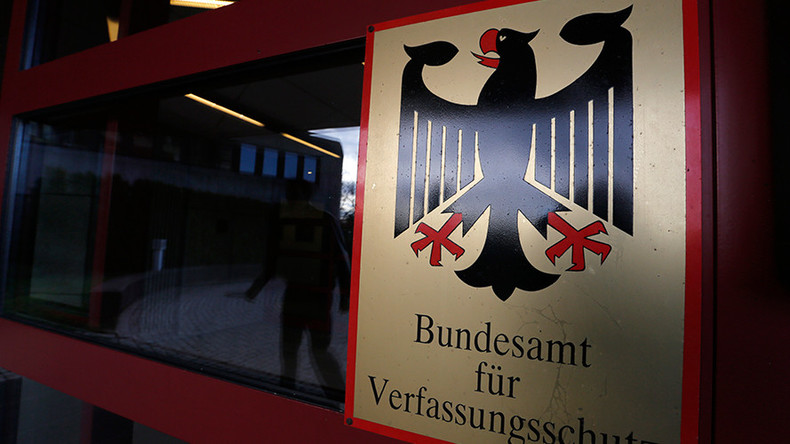 In a bizarre plot twist, the suspected radical Islamist arrested for gathering confidential data and planning a terrorist attack while working at Germany's domestic intelligence service has been revealed to be a gay porn actor by officials involved in the case.
The Spanish-born German citizen was arrested earlier this month, which became known on Wednesday, but details of his past emerged when officers searched his apartment. There, they discovered gay pornographic films in which he was an actor, reported Bild.
Although it will not be used as part of the investigation, the material is adding to one of the most bizarre cases in Germany. Officials familiar with the case said the man may be mentally ill or suffer from multiple personalities disorder, The Washington Post claims.
That could possibly explain how the suspected wannabe jihadist managed to combine the seemingly non-matching traits, with homosexuality considered sinful and punishable by death by radical Islamist preachers.
The man, who has not been identified, first came to the attention of German officials when he offered to help Islamist militants gain access to Germany's spy agency headquarters in Cologne on a heavily monitored message board. Authorities were soon able to identify the culprit who turned out to be an employee of the Federal Office for the Protection of the Constitution (BfV).
READ MORE: Radical Islamist infiltrated German federal intel service, planned 'HQ bomb attack' – reports
In custody, he revealed he had secretly converted to Islam and taken the role at the BfV so as to warn "his religious brothers" about investigations.
German Interior Minister Thomas de Maiziere warned in September that there were more than 520 people capable of committing "unexpected" and potentially "high-profile" terrorist attacks inspired by Islamism in the country, a number he claims is higher than ever before.
Officials said that they had no evidence that the suspect managed to successfully provide information to any militants.