Majority of French fear terrorist attacks over Christmas & New Year – survey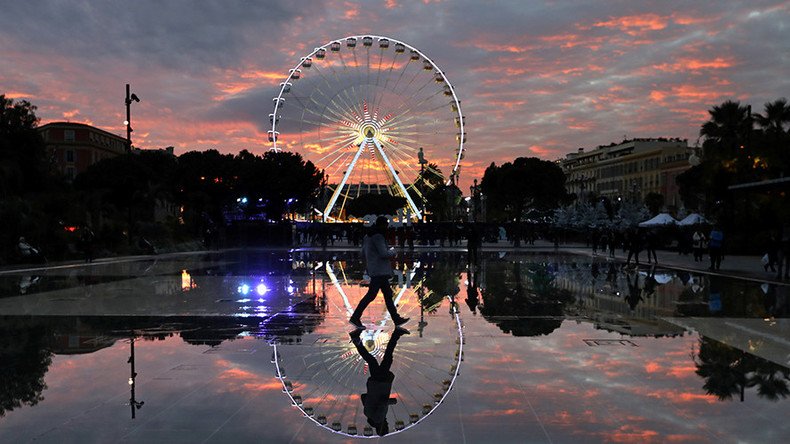 Almost three-quarters of French citizens fear terrorist attacks during the upcoming holiday season, a recent survey revealed. In addition, 67 percent of respondents consider public places hosting festive events to be under the greatest threat.
As stated in the survey, conducted by the Odoxa research institute and published on Friday in Le Figaro daily, 71 percent of the respondents said they fear terrorist attacks during the upcoming holidays.
The study also states that "for nearly six out of 10 (57%), department stores and shopping centers are also a matter of concern, as are places of worship - for more than one in two (54%)."
Some 78 percent of respondents said they are in favor of establishing secure areas in public places where New Year will be celebrated.
On a greater scale, when asked about their "everyday safety," the French appear overwhelmingly supportive of the presence of security officers, for instance at the entrances of department stores (91 percent). Almost one-third of the respondents even said they will either make do without Christmas shopping or purchase gifts on the internet to avoid traveling to large shopping malls.
The idea of security officers at places of worship as French Christians prepare to celebrate Christmas was welcomed by 79 percent. Just under two-thirds – 62 percent – of those surveyed said they would also support arming private security guards, provided these were "qualified and carefully selected."
READ MORE:'He tainted Islam': Muslim community refuses to bury French priest killer
The survey said that a total of 62 percent of respondents feel they are in a state of danger.
"The score rose 4 points in 3 months, accompanied with a strong distrust towards government in the area [of providing security]," it stated, adding that 75 percent also claim to be rather less confident about their safety from threats other than terrorism, such as robbery and assault.
The survey was conducted on December 7 and 8, and a representative group of 1,000 respondents took part.
Commenting on the results, Le Figaro notes that in recent years the winter holidays have never been such a large source of fear for the French public.
Although the concrete measures to be imposed for maintaining security at this year's Christmas and New Year's Eve festivities have not yet been announced, additional steps have already been taken –including for this year's Fête des Lumières (Festival of Lights) in Lyon, which started on Thursday.
The festival will only run three days rather than the usual four, and will only be open from 8pm to midnight each night. It is restricted to Lyon's city center and all the events will be contained in a guarded area similar to an enormous fan zone, with 42 entrances where spectators will have to undergo security checks. A total of 11,000 police and security staff are on hand to ensure safety, and the air force has given the authorities a drone to watch the crowds.
France has been on high alert since the Charlie Hebdo terrorist attacks in January 2015 in which 12 people were killed, and the Paris assaults in November of that year, when at least 130 people were killed by Islamic State (IS, formerly ISIS/ISIL) terrorists. The state of emergency that was imposed after those attacks is still in place and may be prolonged, according to the latest proposal by President Francois Hollande, who wants it to be extended to May 2017 to cover the next presidential election.
You can share this story on social media: