'He tainted Islam': Muslim community refuses to bury French priest killer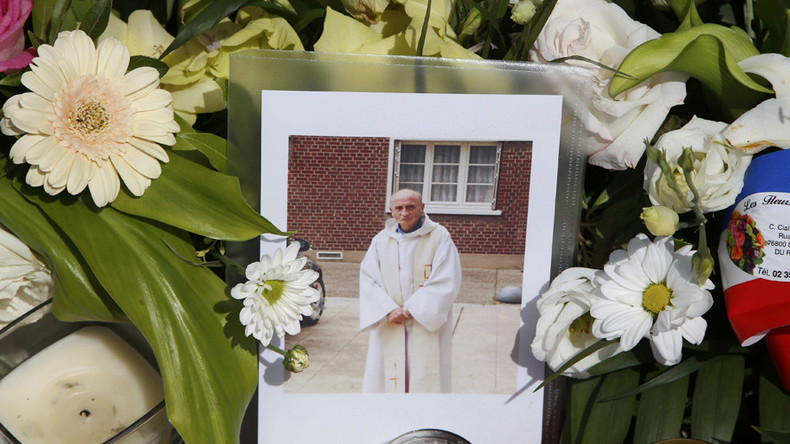 The Muslim community in Saint-Etienne-du-Rouvray in northern France, where two jihadists slit Father Jacques Hamel's throat, is refusing to bury one of the attackers, saying that he put a stain on Islam, the French media reported.
Algerian-born 19-year-old Adel Kermiche was one of the two attackers who killed the 85-year-old priest and seriously injured an elderly parishioner. A French citizen, he was living in Saint-Etienne-du-Rouvray and attempted to join Islamic jihadists in Syria back in 2015.
"We're not going to taint Islam with this person," Mohammed Karabila, a leader at a local mosque, told Le Parisien newspaper, "We won't participate in preparing the body [for the burial] or the burial."
A Muslim worshiper, Khalid El Amrani, supported the move, saying that the refusal to bury the terrorist is "normal."
"What this young man did is sinful," the 25-year-old engineer said, "He is no longer part of our community."
Now it is up to the local authorities to decide how to issue the burial permit for Kermiche.
Father Hamel was killed on Tuesday after having his throat slit during a hostage situation at the local church. French police killed the attackers, Kermiche and 19-year-old Abdel Malik Petitjean, as they tried to flee the 17th century Catholic Church.
The pair had previously pledged allegiance to Islamic State (IS, formerly ISIS/ISIL) terrorist group, who subsequently claimed responsibility for the attack.
Following the tragedy French Prime Minister Manuel Valls said he was considering a temporary ban on the foreign financing of mosques. Speaking to Le Monde newspaper on Friday, Valls said France needed to re-think its relationship with Islam.
On Sunday Muslims attended Catholic Mass in churches across France and abroad. Up to 200 Muslims gathered at the towering Gothic cathedral in Rouen, only a few kilometers from Saint-Etienne-du-Rouvray.
"We're very touched," Archbishop Dominique Lebrun told broadcaster BFMTV.
"It's an important gesture of fraternity. They've told us, and I think they're sincere, that it's not Islam which killed Jacques Hamel."
At Notre Dame cathedral in Paris, Dalil Boubakeur, the rector of the Paris Mosque, said that Muslims want to live in peace.
"The situation is serious," he told BFMTV. "The time has come, to come together, so as not to be divided."
The move to attend the Catholic services was made by the French Council for the Muslim Faith (CFCM), which dubbed the attack as a "cowardly assassination."
The Muslims should "show our Christian brothers the solidarity and compassion of France's Muslims in the wake of this new tragedy that has struck our country through an attack on a place of worship," the group said.
France has been on high alert following a deadly attack in Nice on July 14. At least 84 people were killed when a truck plowed through a crowd during Bastille Day celebrations. Weapons and grenades were found in the vehicle following the rampage. Several days later a news agency linked to IS released a statement in which the group claimed responsibility for the attack.
You can share this story on social media: