'No binding rules in Islam': Muslim girls must take part in swimming lessons, German court rules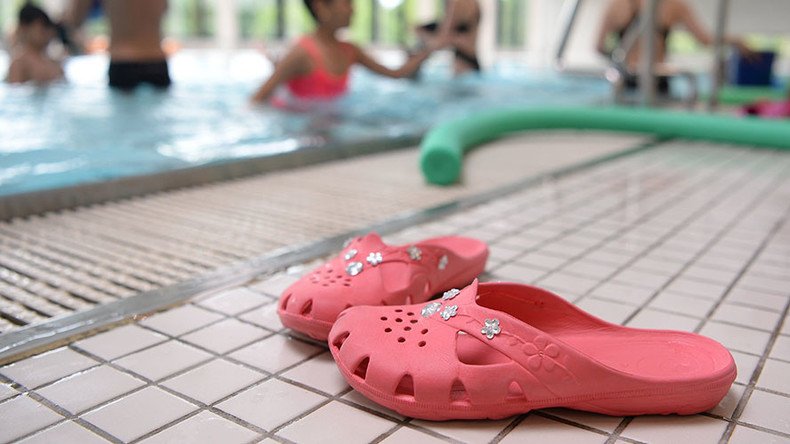 Germany's highest court has ruled that Muslim girls must take part in mixed sex swimming classes at school, rejecting a complaint filed by an 11-year-old girl who said that even wearing a full-body burkini swimsuit violates strict Islamic dress codes.
The pupil of Moroccan descent refused to attend swimming lessons with boys, and was given an unsatisfactory mark as a result, AFP reported.
The girl had argued before lower courts that swimming in a burkini revealed the shape of her body, and that the sight of her fellow pupils in swimwear made her uncomfortable, according to n-tv.
Germany's Federal Constitutional Court in Karlsruhe dismissed the girl's appeal that had sought an excusal from the classes, Suddeutsche Zeitung reported.
According to the constitutional authorities, the girl in Frankfurt am Main could not prove that a burkini does not comply with Islamic law.
The lower courts had found earlier that there are "no binding rules in Islam" that define appropriate clothing.
Germany and France have the largest Muslim populations in the European Union, according to Pew Research Center.
Stressing that German law "takes precedence" over Islam's Sharia code, on Tuesday, Chancellor Angela Merkel proposed a ban on full-face Muslim veils in Germany, telling delegates at the Christian Democratic Union (CDU) congress that they should be banned "wherever it is legally possible."
"The full-face veil must be banned wherever it is legally possible," Merkel said at the two-day party congress held in the western German town of Essen, while presenting her political program and launching her bid for another term as CDU leader and German chancellor, according to the Bild.
In 2010, France was the first European country to ban wearing Islamic face veils in public places. The ban was upheld by the European Court of Human Rights in 2014, which said that it does not violate religious freedoms. Belgium followed suit in 2011 and introduced a similar ban.
Late last month, the lower house of the Dutch parliament voted to ban face veils and other face covering garments in certain public places, such as schools, hospitals, and government buildings, citing security concerns.
The Dutch bill covers situations in which face recognition and proper communication are "essential." It would ban Islamic veils and robes such as the burqa and niqab, but also apply to all face coverings, including ski masks, helmets, and balaclavas. If it becomes law, it would not result in a blanket ban on wearing burqas on the street.


You can share this story on social media: