German talk show slammed after Muslim guest allegedly 'justifies jihad'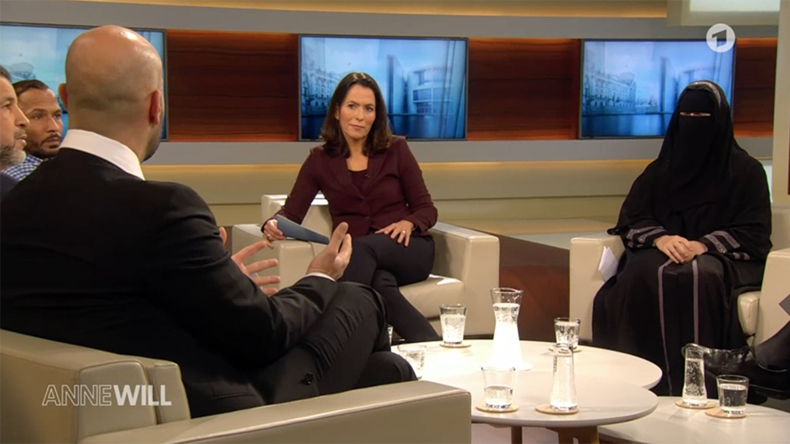 The German public has been outraged by the latest edition of talk show 'Anne Will'. Discussing why more and more young people radicalize, one of the guests – a niqab-clad Muslim woman – justified young Muslims going to Syria to fight alongside jihadists.
The show, broadcast at prime time on German ARD channel on Sunday, started off calmly, with a number of experts invited to discuss the alarming trend of youth radicalization. Among them were a father who lost his daughter to Islamic State (IS, formerly ISIS/ISIL), an expert on Islam, a Berlin-based imam and a CDU politician who lobbies for a ban on Muslim full-face veils.
Another guest was Nora Illi, Muslim women's commissioner for the Islamic Central Council Switzerland (IZRS). She came to the show niqab-clad and this became the first thing that aroused public discontent, as the niqab is a Muslim piece of clothing that obscures both body and face, and is largely viewed as "a symbol of radical Islam."
Illi described how at the age of 18 she, a common girl from Zurich, converted to Islam and found "diversity and respect" in the religion. She spoke of it being a right of every Muslim to practice their religion, for instance by wearing traditional attire and being allowed to pray at the appropriate time, whether at work or in a public place.
The Swiss national complained that in Germany and generally in non-Muslim states, Muslims are largely excluded from society by attempts to prevent them from practicing their religion in public. Illi claimed that this is the turning point for the youth to radicalize: when young people are not allowed by society to practice their beliefs freely, disoriented, they turn to more radical manifestations of their religion.
However, what caused the public to explode was the news anchor's decision to read out an excerpt from an essay by Illi published on the Council's website back in 2014. In it, Illi justified the choice of Muslims who travel to Syria to fight against the regime of President Assad, as this choice is made because Muslims are, she claims, repressed in most non-Muslim countries and join jihad in an effort to break free from this repression.
The reaction to these words from Illi's fellow-guests was immediate shock. The CDU's Wolfgang Bosbach and Islam expert Ahmad Mansour both called the speech "terrorism propaganda on TV," slamming the news anchor for allowing such statements to be broadcast on-air and heard by millions of Germans.
Niqab-Trägerin bei #annewill hat theologisch Verständnis für Teenager, die in heiligen Krieg ziehen. Langsam wird es skandalös

— Ralf Schuler (@drumheadberlin) 6 ноября 2016 г.
The German public has vented its outrage at the program online. Some people decried ARD for providing "a platform for Islamist propaganda," others simply called Illi's statements scandalous.
Warum gibt man islamistischen Hetzparolen Woche für Woche in deutschen Talkshows eine Plattform?
😳
Heute wieder bei #annewill
Warum @ARDde?

— Patrick Kunkel (@Patrick_Kunkel) 6 ноября 2016 г.
Some, however, took it all in a humorous vein.
"Fully veiled women representatives. What irony."
"Next week at #annewill: Erdogan, Duterte and a member of the Ku Klux Clan will be discussing human rights."
Nächste Woche bei #annewill : Erdogan, Duterte und ein Mitglied des Ku Klux Klans diskutieren über Menschenrechte.

— Gregorius (@BalazsGabi) 7 ноября 2016 г.
Nora Illi replied on Monday to the wave of "aggressive to hate-filled discussions on social media," as she put it. In a Facebook post, she wrote that she never meant to advertise jihad, but merely attempted to "provide an explanation for the phenomenon" of youngsters joining radicals, concluding "that Islamophobia is an important push factor" for this trend.
Illi also denied any association with Islamic State, while her husband, IZRS spokesman Qaasim Illi, denied any such links between the terror group and his organization.
READ MORE: 'Burqa ban' comes into force: Swiss region imposes first fines
It is not the first time Illi has been in media spotlight. This summer her name was in the headlines when she became the first woman in Switzerland fined for sporting a traditional Muslim burqa after it was outlawed.
And less than two weeks ago, she took part in a debate on the burqa ban with an Austrian private broadcaster Ösi-TV, also sparking quite a debate with her fully-veiled appearance and claims that Islamophobia is the cause of radical Islamism.


You can share this story on social media: