'Nazi eagle' benches stir controversy in Russian city
Published time: 5 Dec, 2016 18:36
Edited time: 6 Dec, 2016 14:10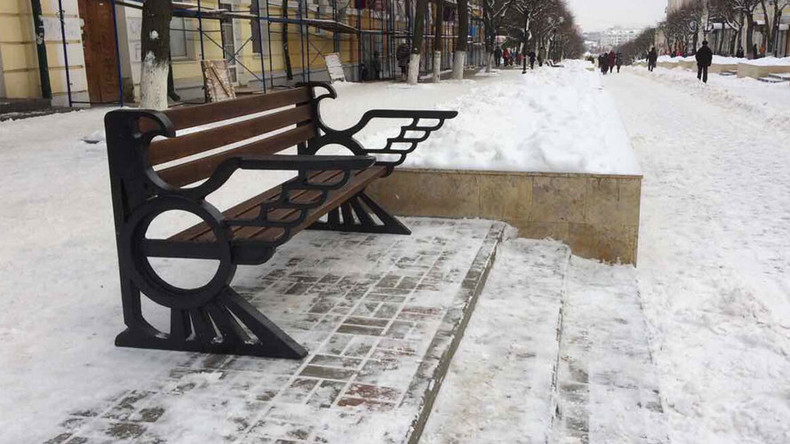 The governor of Russia's Orel Region has lobbied for the removal of a bench which was presented to the city of Orel after an online outcry erupted over how its design elements resembled Nazi eagles.
Internet users in Orel, a city in Russia's west, branded the bench "an offense to any Russian."
"There are millions of normal bench designs in the world, while this one's only lacking a swastika," one of the commentators wrote in a discussion on social media.
The controversial benches have side plates in the form of an eagle with spread wings – a likely reference to the name of the city, which translates into English as 'Eagle'.
The bench was gifted to the city by a construction company, Zenit, which had plans to install several similar items if residents liked the design.
Orel Region's governor, Vadim Potomsky, walked to Lenin Street in the city center to personally inspect the bench.
The governor, eventually, said that he shared citizens' concerns, telling the Orel administration to consider dismantling the source of controversy.
"It's a Third Reich symbol. Such 'a la' beauty disgusts me," Potomsky said on Monday, as cited by the local RIA 57 news outlet.
However, a lot of commentators said they liked the bench's design and spoke out against a "maniacal" search for Nazi traces in things which might in no way be connected to Nazism.
"There's plenty of different insignia around the globe, stop picking holes. The main thing is for it not to fall apart," one of the users wrote.
READ MORE: 2nd chance? Nazi salute video failed to unseat Merkel party members, media find
"We need more eagles in Orel! We're lucky to have such a city name. For a long time, the eagles have been the symbol of Russian tsars and everything noble," another said.