'I rigged parliament votes for President Poroshenko' – fugitive Ukrainian MP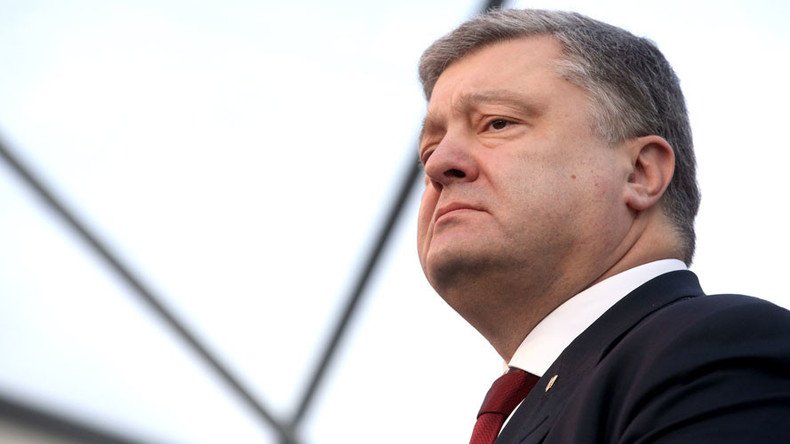 The president of Ukraine is personally involved in large-scale corruption, alleges a fugitive MP who claims to have rigged votes in the parliament by bribing fellow lawmakers with bags-full of cash on behalf of Petro Poroshenko.
The money used to buy votes had been embezzled from the state coffers and even includes funds provided to Ukraine by the International Money Fund, Aleksandr Onishchenko said in a Skype interview to Russian TV.
"The credits received from the IMF [were stolen]. There were so many contracts to pay inflated prices in budget money. It is simply being washed out of the budget and used by Poroshenko," he told a political talk show aired on Rossiya 1 channel, in answer to a question about where the money for the bribes came from.
The interview is one of series Onishchenko gave to different media outlets since last week, including the British newspaper the Independent. The publicity attack has been dismissed by the Ukrainian president's office, which accused Onishchenko of trying to shield himself form criminal investigations in Ukraine by falsely depicting himself as a victim of political persecution.
Onishchenko, a wealthy businessman with assets in natural gas, fled Ukraine in late June as the parliament was preparing to strip his legal immunity and allow his prosecution for alleged corruption involving the sale of domestically-produced gas. He has reportedly lived in London since then.
Last Friday, the Ukrainian news website Strana.ua published an expose based on Onishchenko's allegations against Poroshenko. The fugitive lawmaker claimed that the president and his business partners abused power to get richer. The alleged machinations involved racketeering other wealthy businessmen into selling their assets, bribing members of the parliament, the Verkhovna Rada, to pass laws benefiting the president's clique politically or commercially and other schemes.
Onishchenko claims that he was personally involved in paying off deputies in crucial votes, like the dismissal of Ukraine's top prosecutor and approval of a new one loyal to the president in his place. He also claims to having led a 10-month smear campaign against Ukraine's former Prime Minister Arseny Yatsenyuk, who, according to the MP, competed with Poroshenko for influence in the country.
The self-proclaimed political fixer said he had evidence of his former ally's corruption, including emails, phone text messages and records of conversations with Poroshenko, which, Onishchenko said, he made using a recorder hidden in his wrist watch. He said he had been keeping the compromising material for months as Poroshenko was trying to set a deal with him, but eventually handed over the materials to the US Justice Department. Onishchenko said American investigators approached him rather than the other way.
"The American special services came to me. They wanted to know about this entire process I was involved in," Onishchenko described in the Rossiya 1 interview. "[Poroshenko] didn't know about it and he wanted to deal with me to keep me silent. When he failed, I handed over the documents to the Americans."
Since the attack on the president was launched by Onishchenko, Ukraine's special security service SBU accused him of high treason and said he was secretly a Russian citizen. The agency said the fugitive MP agreed to take part in a Kremlin-orchestrated campaign to destabilize Ukraine in exchange for being shielded from prosecution.
Onishchenko is among more colorful figures in the Ukrainian political world. A reputed womanizer and professional horse-rider, he represented Ukraine in the London 2012 Olympics equestrian events. He claims to be an acquaintance of US President-elect Donald Trump through equestrian competitions the American tycoon organizes every year in Florida.
The accusations come shortly after another Ukrainian politician, former Georgian President Mikhail Saakashvili, resigned his position as head of Ukraine's Odessa Region and declared his opposition to Poroshenko. Saakashvili accused the Ukrainian president of corruption and unwillingness to reform the country. The demarche last month came a day before Trump won the highest office in the US in a surprise victory.
Onishchenko's accusations are trustworthy as "it was obvious that Poroshenko and other Ukrainian leaders were corrupted from the beginning," Bruno Drweski, professor at the National Institute of Languages and Eastern Civilizations, told RT.
The current large amount of publications on Ukrainian corruption in US and European media is explained by the fact that the "Ukrainian oligarchy doesn't want to share its benefits with other people and, especially, with people in the West," he said.
"The West is, of course, interested in investing in Ukraine, but the problem is … they want to take back benefits," Drweski said, adding that "for the moment, the Ukrainin landscape is very unattractive."
You can share this story on social media: