Fugitive Ukrainian MP says he handed proof of Poroshenko 'buying votes' to US Justice Dept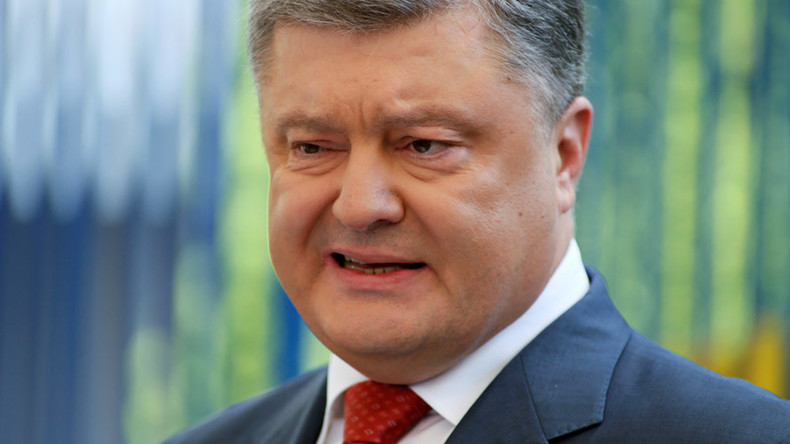 A former close ally of Ukrainian President Petro Poroshenko, who is now seeking asylum in the UK and is wanted at home on charges of embezzlement and treason, claims he has passed eye-opening evidence of sweeping corruption in Kiev on to US investigators.
Aleksandr Onyshchenko, a former MP in the Verkhovna Rada, Ukraine's parliament, known as a billionaire oligarch and professional showjumper who was going to represent the Ukrainian team at the 2016 Rio Olympics, fled the country this summer a week before being stripped of parliamentary immunity due to an investigation into a gas fraud scheme that he allegedly organized. He has been charged with embezzling tens of millions of dollars.
However, Onyshchenko, who insists that he is innocent and that there is no proof implicating him, has now responded with a bomb-shell leak that he claims proves there are enormous levels of corruption in Poroshenko's government, with the sums involved dwarfing those he is accused of embezzling.
The leak, which Onyshchenko says he handed to American investigators on November 29, allegedly describes the inner workings of the Ukrainian parliament and Poroshenko's cabinet. He accuses the president of bribing dozens of deputies in every key swing vote, with the sums sometimes exceeding $2 million per vote.
Some 70 MPs from different parties are selling their votes, Onyshchenko claims, with price tags varying from $20,000 to $100,000 per vote.
(Caption says: "There are three ways to influence a deputy's vote. The first one is commercial (for cash). The second is crony-oligarchic (by agreement and exchange), and then there is criminal, when a deputy faces criminal charges as blackmail.")
Ukrainian outlet Strana.ua, which ran an investigative piece based on Onyshchenko's story and separate interviews with Ukrainian MPs, describes the MP as Poroshenko's trusted ally and a key figure in the scheme. He allegedly acted as an intermediary, negotiating with the MPs, who would "sell" their votes to pass laws, approve nominations, draft budgets, or sack high-profile officials.
The oligarch says that he meticulously collected emails, and even secretly recorded Poroshenko giving detailed orders with his hand watch. Onyshchenko also seems well-prepared for a legal battle, claiming that his email and phone exchanges have already been verified by British experts.
"You will hear the voice of the guarantor [of the Constitution] so that all your illusions on [his] love for the state, Ukraine, the people, disappear. After all, I walked hand in hand with [Poroshenko] for two years, and know him well," Onyshchenko was quoted as saying by the newspaper Ukrainian Pravda.
While the runaway MP said that he handed the evidence over to "US special services" at a meeting in Europe without elaborating, an image posted by the outlet shows several piles of printed pages, one of which has been signed by the US Department of Justice and another by its German counterpart. One paper relates to a November 29 meeting between Onyshchenko, his lawyer, a prosecutor from the US Justice Department's Criminal Division, and several agents from Homeland Security Investigations, where the supposed handoff of documents took place.
Kiev has dismissed the allegations, soon accusing Onyshchenko of working for Moscow. The Ukrainian security service SBU claims that he prepared "a massive information attack on [Ukrainian] authorities as part of a strategy developed by the Russian side," KyivPost reported.
Ironically, the MP, who is seeking British asylum, has also been accused of trying to gain Russian citizenship.
On Thursday, the SBU said that it has launched a pretrial investigation to see if there are grounds to charge Onyshchenko with high treason.
While the oligarch did not explain in detail why he chose to hand the evidence over to US investigators, Onyshchenko told the Ukrainian Pravda the following:
"[I'll] let them [the investigators] deal with Poroshenko. That's why, unfortunately for Poroshenko, these are American special services and not Russian."
In an additional plot twist, Onyshchenko is said to be friends with Donald Trump, whom he vocally supported in the run-up to the US election and personally congratulated after the US President-elect's win.