10 children among 12 killed in collision between truck & bus carrying acrobatics team in Russia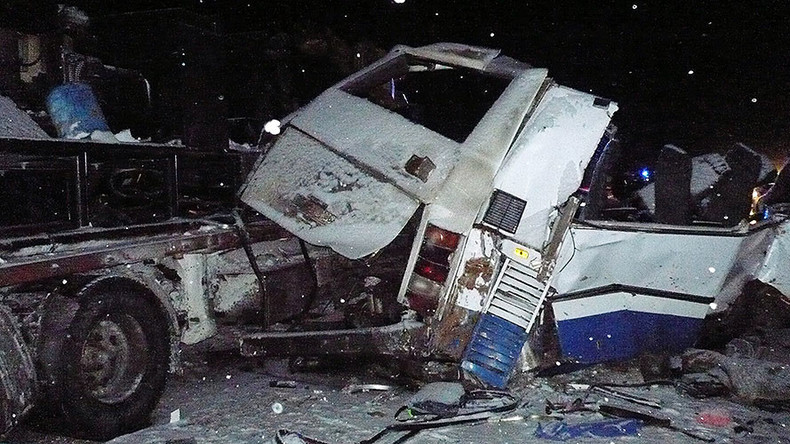 At least 10 children aged between 12 and 14 were among twelve people killed in a crash in Russia after a bus was hit by a truck. The children in the bus belonged to an acrobatics team returning from a competition in another city, the general prosecutor's office said, as cited by RIA Novosti.
The collision in the Urals region involved a bus carrying 29 children and three accompanying adults from the city of Khanty-Mansiysk to Tumen, the local police said.
"There are 10 ambulances responding to the incident. At the current moment, everyone injured has been taken to the hospital or is in transit," Vadim Simonenko, spokesman for local emergencies services, told RT.
At least 34 people, including 27 children, were injured in the accident, the regional prosecutor's office said, as cited by TASS.
According to the local hospital which is treating the injured, at least 12 people are currently in serious and very serious condition.
Footage of the scene uploaded on YouTube reportedly shows both vehicles badly damaged.
"The bus drifted, after which a truck rammed into it," the police said, as cited by TASS.
The collision occurred in bad weather conditions. In addition to the bus and the truck, the collision involved two cars, local emergencies service reported.
The Investigative Committee of Khanty-Mansiysk Region said in a statement that it detained a representative of an individual entrepreneur who "organized the transport services."
The authorities also detained the truck driver and the bus driver. Both men were inconsistent in the evidence they gave, the committee said.
The investigation concluded that both drivers violated the traffic code, and are currently being treated as suspects, the committee added.