Putin addresses lawmakers in key annual speech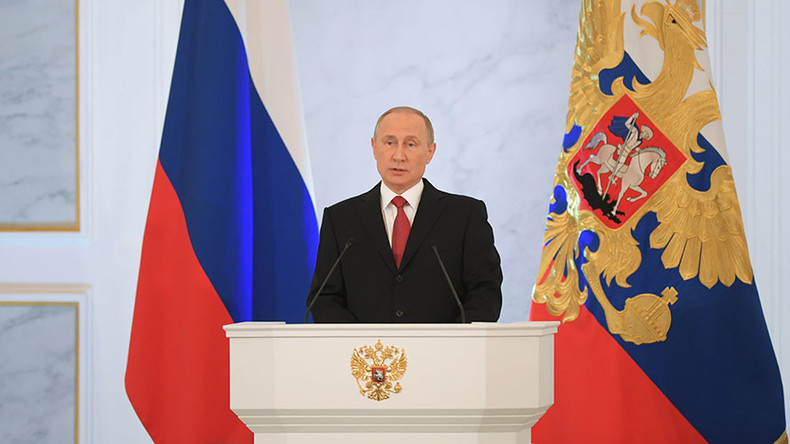 Russian President Vladimir Putin is delivering his highly anticipated annual address to the country's Federal Assembly – the two chambers of the Russian parliament. This is Putin's 13th address of the kind.
01 December 2016

10:12 GMT

The president concludes his address with a call to continue the good work of colleagues in implementing the policies outlined.

10:10 GMT

Putin gives praise to Russia's military operation in Syria, with the battle against terrorists proceeding with great success.

10:09 GMT

Russia is willing to cooperate with the new US administration, which is extremely important. A breakdown in relations is perilous and could lead to a major catastrophe.

10:07 GMT

Russia's relationship with China is a role model for international relations in general, based on respect and mutual advantage.

The strategic partnership with India is also highly-valued and developing well.

10:06 GMT

We need to create a last system of productive international relations. We're ready to participate in such relations based on the rule of law.

A free media is part of that, and recent accusations about the Russian media are evidence that there's still a long way to go in providing a level playing field, the president said.

10:01 GMT

Russia has been suffering from international "aggression," including attacks and accusations about media and the doping scandal which led to Russian athletes' ban from the Olympics. We should defend ourselves from such attacks.

09:56 GMT

Investments in digital technology and intellectual property, with due care to the risks of such pursuits.

The president pledges the development of a 'digital economy', increasing subsidies and investments - it could be Russia's "fundamental science," he said.

09:53 GMT

Lending to Russian companies has contracted, and this must be addressed - currency fluctuations notwithstanding, the president said.

Thanks to the Central Bank, the Russian banking system is being 'sanitized' by purging non-performing or non-compliant institutions.