ISIS-linked German attacker planned to poison children with ice-cream & blow up nursery – report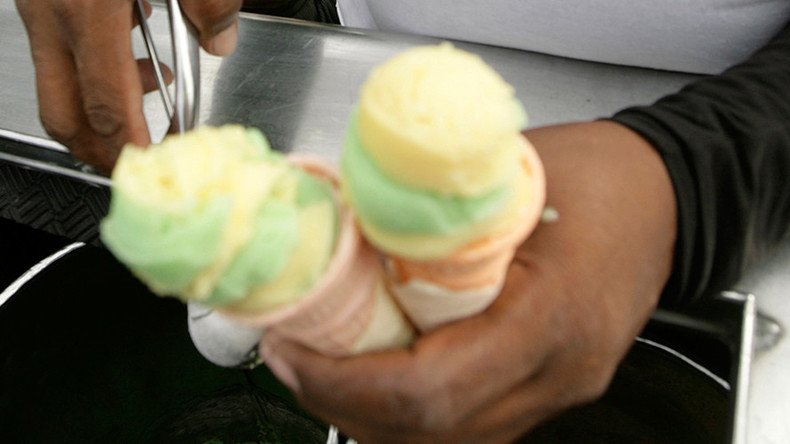 A letter from a teenage ISIS-sympathizer linked to the April bombing attack on a Sikh temple in the German city of Essen to another suspect unveils his plot to murder nursery school children with poisoned ice-cream and a car bomb, German media report.
Mohammed Ö., an 17-year old teenager, was arrested in August this year in connection with investigation of an attack on the Sikh wedding that left three people heavily injured.
He was subsequently sentenced by German district court in the city of Gelsenkirchen to two years behind bars in October for taking part in the improvised bomb trials ahead of the attack, German Focus daily reported on Wednesday, citing Bild tabloid.
The contents of one of the letters allegedly exchanged by the jihadists in August while they both were in custody, were uncovered in the German court during an appeal launched by Ö's lawyer against the verdict.
The 17-year-old is said to have exchanged at least three letters written in German, Turkish and Arabic with Yusuf T, a suspected ring leader of a radical Salafist group, which had perpetrated the attack. In a string of handwritten messages scrawled over with Islamic State (IS, formerly ISIS, ISIL) symbols, Mohammed Ö shares with Yusuf T thoughts on possible future attacks, asking him, in particular, if he is allowed to "also kill children in a targeted attack."
Elaborating on his plan further, he gives a detailed, blood-curdling description about how exactly he intends to implement his plans, spread on two A4 sheets.
"I work as an ice cream man with my ice-cream van and sell ice-cream to many children. May I, in accordance with Sharia law, poison the ice-cream with arsenic or warfarin, or better strychnine, to kill children?" he asked Yusuf, suggesting also to plant an explosive device in the van and ram it into the kindergarten, blowing it up.
READ MORE: Arrested German intel agency's Islamist mole 'starred as gay porn actor' – report

Besides planning an assault on toddlers, Ö asked his fellow jihadist's opinion if it is ok, pursuant to the norms of Islam, to rape daughters of the "unfaithful," that is those who do not belong to the Muslim faith, "because you can rape sex slaves," he wrote further, as cited by Die Welt.
Notably, the bizarre correspondence was attempted by the jihadists as they were both in custody, awaiting the respective trials.
Yusuf T, however, appeared to be more cautious, and called on his henchman to stop sending him letters, fearing that they could implicate themselves, ruining their hopes of a softer sentence.
"If someone sees these letters, we can forget about a good verdict. Mohammed, you must finally understand that this is not a kindergarten anymore," he wrote in one of the letters.
At the same time, Ö, as seen from exchange, seemed to be quite optimistic about the outcome of the trial and urged T, who is also a teenager, to procure a cell phone for him so they could discuss future attacks in detail sending him a list of names and telephone numbers of their potential accomplices in Gelsenkirchen.
The list with the names was later found on the device belonging to T during proceedings in Essen.
The letters themselves were eventually discovered by one of the prison's guards.
The major trial against Yusuf T and two other main suspects in the temple attack is to begin in Essen district court next week. The proceedings will be closed to public as the suspects are minors.
While the lawyer for Mohammed Ö declined to comment to Bild on the newly surfaced and apparently aggravating evidence, the defender for Yusuf T, Burkhard Bahri, said that his client "renounced the Salafist scene" and would "testify fully in court."
You can share this story on social media: