Rebuild EU into 'empire of good' in face of Trump presidency – MEP Verhofstadt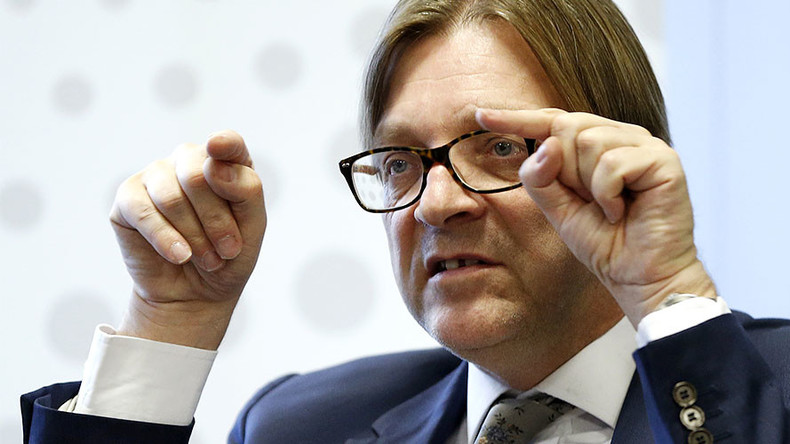 Guy Verhofstadt, a fierce critic of President-elect Donald Trump, says that with the prospect of the incoming US administration the EU should be rebuilt into "an empire of the good." One of its tools would be a European defense union, Verhofstadt said.
Verhofstadt – who heads the Alliance of Liberals and Democrats for Europe at the European Parliament, and has been appointed the EU's chief negotiator for Brexit – believes the bloc should compensate for any distancing from the US under the Trump administration by increasing the centralization of power in the union.
"If [Trump] goes in the direction of more protectionism, we should speed up our trade negotiations with Mexico, Japan and all the other countries that we are negotiating with at the moment," Verhofstadt said in an interview with IBTimes UK.
"The same with defense. Let's create a European defense union, let's take on our responsibilities... Let's become an empire, an empire of the good and not of the bad."
Trump's presidential campaign promised to revive the American economy by imposing protectionist measures, shielding its markets from countries with cheaper labor such as China. He also threatened to leave European members of NATO without American protection unless they meet the alliance's benchmark of spending 2 percent of GDP on defense.
Verhofstadt's proposal would go against the increasing Euroskepticism in many nations within the bloc.
READ MORE: EU Army approved, potentially saddling UK with £420mn annual bill

"They reality of today is that the EU as union doesn't exist. What exits is a loose confederation of nation states," the former Belgian PM argued, saying that the centralization of power he proposes would not necessarily compromise national governments.
"That is majority ruling, a government, a treasury, a common defense – that doesn't mean member states will disappear, they will not disappear, but there has to be a balance between the efficiency in which we can take decisions at a federal level and the autonomy and identity of our member states," he promised.
Last week, Verhofstadt attacked President-elect Trump during a debate on Turkey's aspirations to become an EU member. The Belgian politician said Trump was part of what he called a "ring of autocrats," which he said also included Turkish President Recep Tayyip Erdogan and Russian President Vladimir Putin.
"Not only do they like each other, they also have one thing in common. Bashing and destroying our way of thinking, our values, our European liberal democracy," Verhofstadt said, adding that inside of Europe there was a "fifth column" of "cronies" of the three leaders.
He went on to blast Trump's suggestion of appointing UKIP's Nigel Farage as the British ambassador to the US.
"I think one clown in Washington is more than enough," the veteran MEP said.