'Symbol of an era': World leaders pay tribute to father of Cuban revolution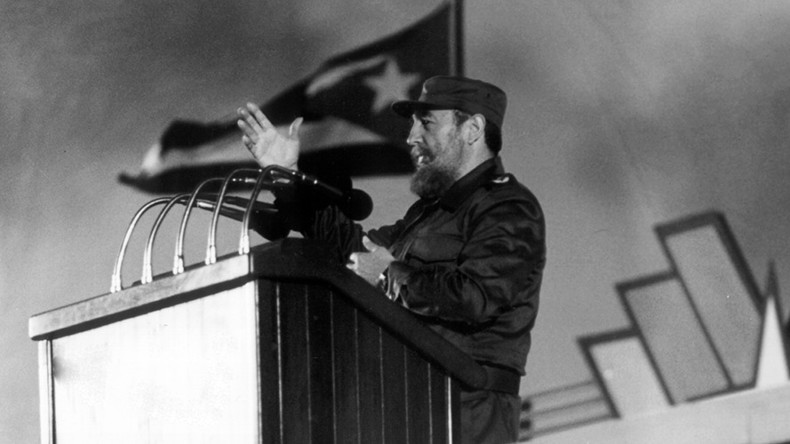 World leaders pay tribute to the longtime Cuban revolutionary leader Fidel Castro, describing the comandante as an iconic figure of his time who fiercely resisted colonialism, the US blockade, and the country's hardships.
Russian President Vladimir Putin delivered his condolences to the Cuban government and people on Saturday. The Kremlin statement said Castro's name "is a symbol of an entire era in modern history."
"The free and independent Cuba built by him and his associates has become an influential member of the international community, and an inspiring example for many countries and peoples," the statement said. It also underlined Castro's personal determination to develop lasting relationships between Moscow and Havana.
"This man of strength and wisdom always looked straight into the future," it stressed. "He represented the highest ideals of a politician, citizen, and patriot who firmly believed in his cause."
READ MORE: 'I have a heart of steel': Fidel Castro's most memorable quotes

Mikhail Gorbachev, the last Soviet leader who met Castro in person, told Interfax on Saturday he is "truly saddened that Fidel's time is now over," adding that "he will remain in our memories as an outstanding politician, a great personality, and a friend."
He added that throughout the Castro era, Cuba became a developed country which "makes a gigantic contribution to world affairs and strengthening cooperation across the globe." Gorbachev refused to elaborate on the period of strained relations between the USSR and Cuba, saying instead that Fidel was largely upset with the failures of perestroika.
US President-elect Donald Trump has called Castro "a brutal dictator who oppressed his own people for nearly six decades."
"Fidel Castro's legacy is of firing squads, theft, unimaginable suffering, poverty, and the denial of fundamental human rights," he said in a statement.
With Castro gone, Trump promised that his "administration will do all it can to ensure the Cuban people can finally begin their journey towards prosperity and liberty."
During his campaign, Trump warned that if elected, he will reverse President Barack Obama's historic rapprochement between Havana and Washington.
Obama, on his part, said that "history will record and judge the enormous impact" of Fidel Castro "on the people and world around him."
"At this time of Fidel Castro's passing, we extend a hand of friendship to the Cuban people. We know that this moment fills Cubans – in Cuba and in the United States – with powerful emotions, recalling the countless ways in which Fidel Castro altered the course of individual lives, families, and of the Cuban nation," a statement released by the White House said.
"Today, we offer condolences to Fidel Castro's family, and our thoughts and prayers are with the Cuban people," the outgoing president stressed, adding that Cubans should remember that "they have a friend and partner in the United States of America."
Indian Premier Narendra Modi conveyed his condolences on the passing of Castro, writing on Twitter that the Cuban leader has been "one of the most iconic personalities of the 20th century" and "a great friend."
Chinese leader Xi Jinping issued a statement read out on television late Saturday, following the death of Castro.
"The Chinese people have lost a good and true friend," said the Chinese premier, cited by state TV. "Comrade Castro will live forever."
In turn, Japanese Prime Minister Shinzo Abe praised Castro's efforts to modernize Cuba despite Washington's pressure. He contributed to the creation of a nation that focused on healthcare and education amid the unfair economic blockade from the US, Abe said.
LIVE UPDATES: Hasta siempre, Fidel: World reacts to Castro's death

Latin American leaders have been among the first to mourn the death of the comandante. Nicolas Maduro, president of Venezuela, a country with close and lasting ties to Cuba, said that "all the revolutionaries of the world" must carry on with Fidel's legacy.
"To all the revolutionaries of the world, we have to continue his legacy and his flag of independence, of socialism, of homeland," he tweeted. "Sixty years after the departure of 'Granma' from Mexico, Fidel is now going to immortality of those who struggle throughout their lifetime."
Enrique Pena Nieto, president of Mexico, said he laments "the passing of Fidel Castro Ruz, leader of the Cuban revolution and emblem of the 20th century." The Cuban statesman "was a friend of Mexico, promoter of a bilateral relationship based on respect, dialogue and solidarity," he said.
European leaders have issued more measured statements on the death of Castro.
"A figure of great historic importance has gone, a man who brought about a turning point in the country's evolution and whose great influence was felt across the region," said the Spanish Foreign Ministry, adding he was linked to Spain "by ties of blood and culture."
President of the European Commission Jean-Claude Juncker said with the passing of Castro "the world has lost a man who was a hero for many," who "changed the course of his country and his influence reached far beyond." The statement released later on Saturday added that "his legacy will be judged by history."
Meanwhile, British Foreign Secretary Boris Johnson said on Twitter that Castro's passing "marks the end of an era for Cuba and the start of a new one for Cuba's people."
French President Francois Hollande said Castro embodied the Cuban revolution and hope for the future, but also "the frustration that came afterwards." Hollande's statement asserted that he "gave the Cubans an opportunity to be proud of resisting the foreign hegemony," adding that Paris has always criticized the US economic blockade.
Meanwhile, South African President Jacob Zuma has hailed Castro for his help and support in the struggle against the apartheid regime.
"President Castro identified with our struggle against apartheid. He inspired the Cuban people to join us in our own struggle against apartheid," Zuma said.