Hasta siempre, Fidel: World reacts to Castro's death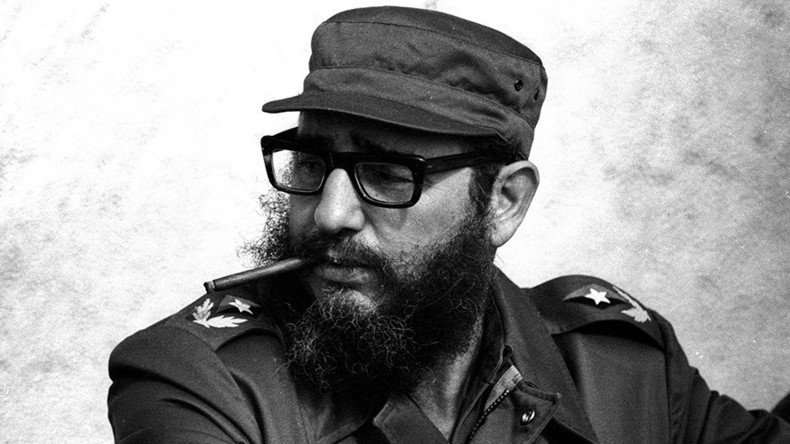 Cuban revolutionary leader Fidel Castro has died at age 90. The world is reacting to the passing of the monumental historical figure.
02:12 GMT

President of the United Nations General Assembly H.E. Peter Thomson said that he is "deeply saddened." The diplomat expressed "sincere condolences" to Castro's family.

"A tireless advocate for equity in the international arena, Fidel Castro was an inspirational figure for developing countries in particular," said the president of the UN General Assembly. "His dedication to their advancement, especially in the fields of education and health, would be long remembered."

26 November 2016

23:39 GMT

Fidel Castro will be remembered as a positive figure in the history of international relations, Stelios Kouloglou, a Greek journalist and Member of the European Parliament, told RT, stressing that Castro became the leader of a small Caribbean island nation and both "managed to improve the living standards of the people" and made his country significant in the international arena.

Cuba is a small island, so "we have to compare it not with Miami, the US or Europe but with other Caribbean states such as Haiti. From this point of view Cuba is much better off," Kouloglou said, adding that Castro "inspired a lot of movements for social justice in Latin America" and he "still remains and will be an inspiration."

19:47 GMT

Vladimir Putin has personally called Raul Castro to express his condolences over the death of his brother, the Kremlin press service has revealed.

Putin called Fidel Castro a "charismatic politician, a patriot who served his country and earned the love of his people, and the respect of the international community."

In turn, Raul Castro has promised the Cuba international partnership with Russia will remain "unchanged," and expressed hope for future cooperation between Moscow and Havana.

18:33 GMT

The death of Fidel Castro means the end to "the very important era of anti-imperialist struggle," Orazio Maria Gnerre, an Italian intellectual and the founder and president of the National-European Communitarianist Party, told RT, adding that the former Cuban leader should be an example and "a great symbol" for future socialist movements.

18:12 GMT

US Secretary of State John Kerry promised that the US would not row back from its rapprochement with Cuba, and strive "not to ignore history but to write a new and better future for our two peoples."

"The United States reaffirms its support for deepening our engagement with the Cuban people now and in coming years," the US diplomat said in a statement.

17:21 GMT

Fidel Castro's death must become a reminder that revolutions should be valued not by the turmoil they cause, but by the quality of everyday life that follows big events, Slovenian philosopher, Slavoj Zizek, told RT.

16:45 GMT

US President-elect Donald Trump has called Castro "a brutal dictator who oppressed his own people for nearly six decades."

"Fidel Castro's legacy is of firing squads, theft, unimaginable suffering, poverty, and the denial of fundamental human rights," he said in a statement.

With Castro gone, Trump promised that his "administration will do all it can to ensure the Cuban people can finally begin their journey towards prosperity and liberty."

During his campaign, Trump warned that if elected, he will reverse President Barack Obama's historic rapprochement between Havana and Washington.