At least 44 killed, over 100 injured in horrifying train collision in Iran (VIDEOS)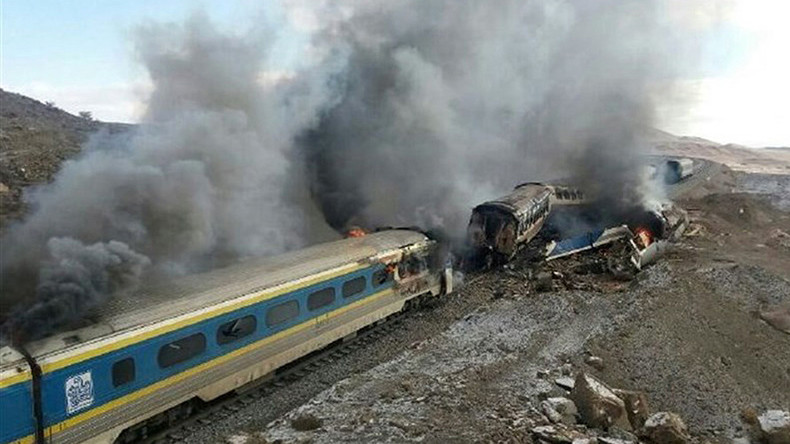 Technical problems and cold weather may have caused a devastating train collision and subsequent massive fire in northern Iran which claimed at least 44 lives and left more than 100 people injured.
The two train collided early Friday in the vicinity of Haft-Khan station in the province of Semnan, 250 kilometers east of Tehran. One train rear-ended another that had stopped near the station, reportedly as the result of a technical failure.
Four carriages derailed and two caught fire. At least 44 people were killed. Many of the bodies were badly burned and are hard to identify, according Ali Yahyaei, a provincial rescue and relief official, cited by the Tehran Times. The number of casualties is expected to rise, the official added. Some 100 injured people were transported to local medical facilities.
Rescue teams struggled to arrive on time on account of harsh weather conditions. Firefighter crews eventually managed to put the blaze out. Several Red Crescent helicopters arrived at the scene.
The cause of the incident thought to be the forced stop that the first train had to make due to bad weather conditions and some technical problems. The second train failed to brake in time and rear-ended the first, according to Semnan Governor General, Mohammad-Reza Khabbaz.
Iran's President Hassan Rouhani urged the transport ministry and others responsible for public transportation to thoroughly investigate the crash, and establish the source of the fault according to IRNA.
Such deadly train incidents are quite rare in Iran. The deadliest rail disaster in Iran occurred on 18 February 2004, when a train transporting sulphur, petrol and fertilizers exploded near the northeastern city of Nishapur. At least 328 people were killed and over 460 injured in the disaster. The entire village of Khayyam was destroyed.