'Must we beat you here or what?' Bulgarian 'refugee-hunter' bullies migrants at Harmanli camp
Published time: 25 Nov, 2016 16:26
Edited time: 27 Nov, 2016 13:51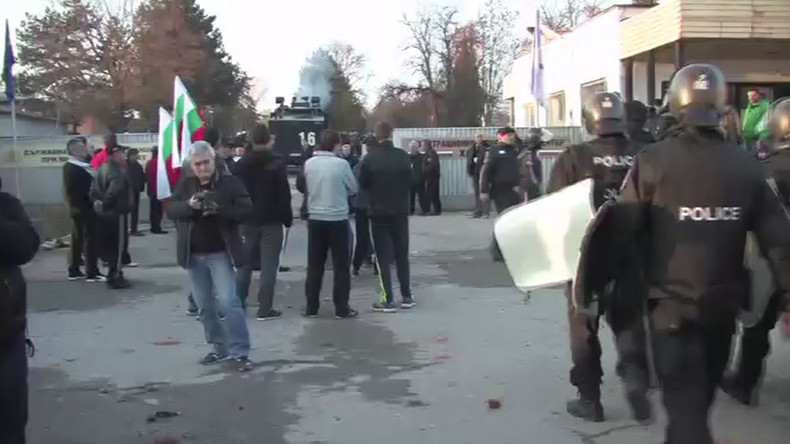 A group of Bulgarian nationalists, including the notorious 'refugee hunter' Dinko Valev, made an appearance at a refugee camp in the border town of Harmanli, following clashes between migrants and riot police over temporary restrictions on leaving the camp.
More than 2,000 people clashed with police at the camp on Thursday, local news agency Novinite reported, citing Bulgarian National Radio (BNR). The migrants were protesting against the temporary restriction on leaving the camp.
Bulgarian police used a water cannon and rubber bullets to quell the disturbances, according to Reuters.
Around 250 police officers, firefighters, and gendarmerie were deployed to the scene. At least 24 were injured by stones thrown at them by migrants, Novinite reported on Friday.
Dinko Valev, the notorious 'refugee-hunter,' who organizes vigilantes to patrol and catch illegal migrants in Bulgaria, also went to the camp.
"As you throw rocks at Bulgarian police officers in there – must we beat you here or what?" the former wrestler asked one refugee in Bulgarian.
"I'm not Muslim, I'm not Pakistani – I'm Iraqi, I'm a Yazidi," the refugee replied in English to his ranting.
Inhabitants of the camp damaged the facility, setting the premises on fire. They burned car tires and set mattresses and furniture on fire in several of the camp's buildings. Many structures, including a canteen and a new building which was supposed to open this week, were damaged.
The Harmanli camp, which is the largest in the country, houses around 3,000 people, mostly from Afghanistan.
Bulgarian Prime Minister Boyko Borisov has promised that as early as next month, dozens of Afghanis from the refugee camp will be extradited, Novinite reported.

"We will try to extradite five people immediately because of national security. The others who disturbed the peace will be among the first to be extradited but, until then, they will be placed in closed-type camps. A plane for Afghanistan has already been arranged and it will fly in December," he added.
Authorities sealed off the camp, placing the facility under quarantine, after locals from the nearby town staged a protest following reports that people from the camp carried communicable skin diseases.
Petya Parvanova, head of the state refugee agency, told reporters that she was in negotiations with the refugees and the ministry of health to "make the health screening faster."