2,000 migrants clash with police, set Bulgaria's largest refugee center on fire (VIDEO)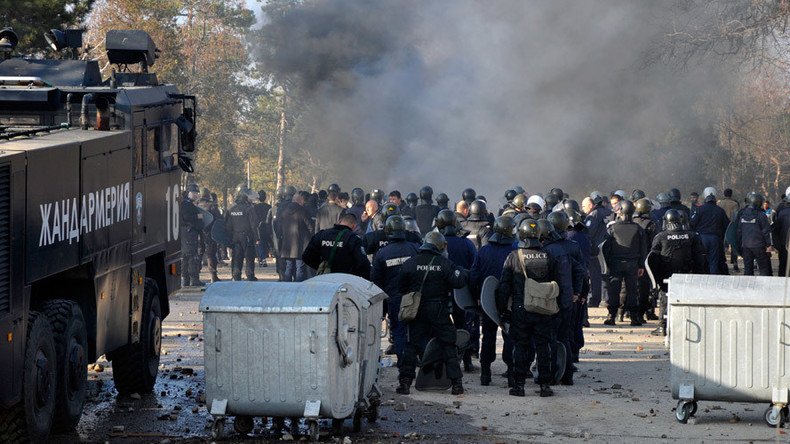 Law enforcement and riot police have been deployed to Bulgaria's largest migrant and refugee camp, located in the town of Harmanli, after violence erupted in the center. Inhabitants damaged the facility setting the premises on fire.
More than 2,000 people clashed with police at the camp in southern Bulgaria, close to the Turkish border, on Thursday, local news agency Novinite reported, citing Bulgarian National Radio (BNR).
The Harmanli camp, which is the largest in the country, houses some 3,000 people, mostly from Afghanistan, according to Reuters.
Some 250 police officers, firefighters and gendarmerie were deployed to the scene, local police spokeswoman Nina Nikolova told AFP. Protesters threw stones and other objects at law enforcement, who had to deploy water cannon to disperse the angry crowd.
READ MORE: Water cannon vs hurled stones: Hundreds brawl at Bulgarian refugee camp, attack police
The migrants burnt car tires, and set mattresses and furniture alight in several of the camp's buildings. Many structures, including a canteen and a new building which was supposed to open this week were damaged.
There have been no reports of arrests or of any injuries, while Bulgaria's interior ministry spokeswoman told Reuters the situation had been brought under control. "Negotiations between the authorities and the protesters are underway," she said.
The riot was reportedly caused by a quarantine, with the Harmanli camp having been sealed off following reports of skin disease outbreaks among its residents. Migrants were protesting against the temporary restrictions on leaving the center.
Officials placed the facility under quarantine after locals from the nearby town staged a protest following reports that people from the camp carried communicable skin diseases. The head of the Bulgarian Refugee Agency, which runs the camp, later said reports of the infection were false and "artificially created tension."
Meanwhile, the leader of the Bulgarian Socialist Party (BSP), Korneliya Ninova said the recent clashes were the result of the government's policy towards refugees.
"We have been alarming about the problems – including health and routine issues there for such a long time. When they [officials] are neglecting the problem and only boast how much work they have done, this is the outcome we should expect," the politician told the media, as cited by FOCUS News Agency.
Bulgaria, the EU's poorest member state, has toughened its border controls to decrease the flows of illegal migrants. A security fence was built on its border with Turkey, while some 17,000 migrants have been detained since the start of the year, according to Reuters. Yet, Bulgarian nationalists have staged a number of protests recently, saying the country cannot support migrants even in lower numbers.
You can share this story on social media: