Water cannon vs hurled stones: Hundreds brawl at Bulgarian refugee camp, attack police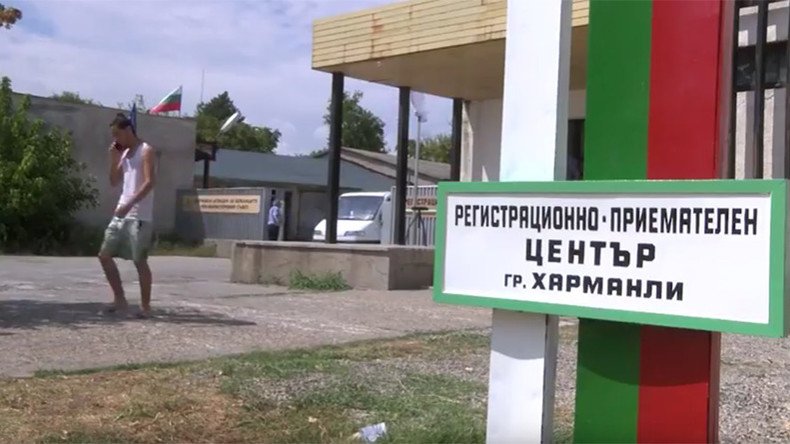 Around 800 people took part in a mass brawl at a refugee center in southern Bulgaria, according to local media. Some 50 law enforcement officers arrived at the scene and used water cannon to suppress the fight, while the refugees responded with stones.
The mass fight broke out late on Sunday night at the Harmanli refugee center, which is not far from the Greek and Turkish borders. According to initial reports, a group from Afghanistan was fighting refugees from Iraq.
The camp's security forces were vastly outnumbered when the trouble broke out, and around 50 police officers turned up to lend support. The Novinite news outlet says that a water cannon was used in order to put a damper on the brawl.
A total of three people were reportedly injured in the violence, two of whom were hospitalized.
"The disturbance was quelled within two hours. Three Syrians got light injuries. There are no injured among law enforcers," the local police head said, as cited by RIA Novosti.
The trouble flared up just days after Bulgarian authorities announced that they would be adding 400 more places to the Harmanli refugee camp, bringing its total potential capacity up to around 3,000 people. The government has put out a $913,000 tender in order to purchase 68 shipping containers.
There are currently around 1,000 migrants living at the center, and Novinite notes that the number of refugees at the camp has risen fivefold in the space of two months.
Some locals have are not very pleased about the refugee center and have held demonstrations calling for stricter policing of the surrounding area due to a rise in petty theft and other crimes, which they blame on the migrants.
Meanwhile, a local nationalist party says it will organize demonstrations to protest the planned expansion of the Harmanli camp, according to BNR radio, as cited by Novinite.
You can share this story on social media: