EU lawmakers call for halt to Turkey membership talks over post-coup crackdown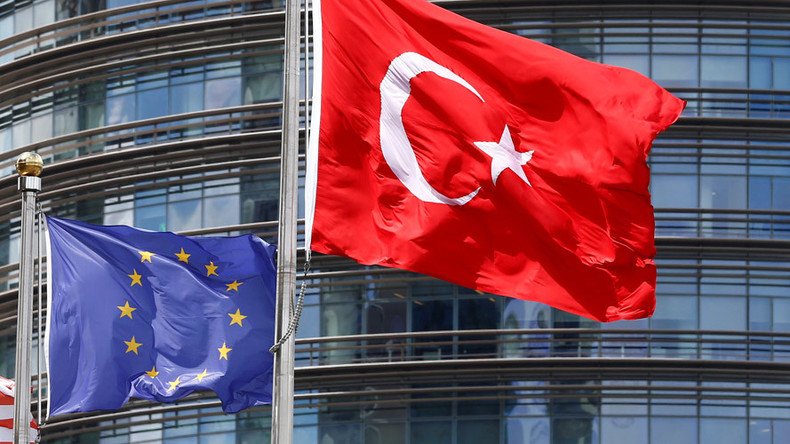 Members of the European Union Parliament have voted in favor of calling for a temporary halt to EU membership talks with Turkey, due to Ankara's "disproportionate" reaction to July's failed coup.
MEPs voted 479 to 37 in favor of the non-binding motion сalling on the European Commission and national governments to institute the largely symbolic freeze in negotiations with Ankara.
"The European Parliament ... strongly condemns the disproportionate repressive measures taken in Turkey since the failed military coup attempt in July," the motion read, according to Reuters.
It added, however, that it remained committed to keeping Turkey "anchored" to the EU.
The European Parliament's call to put the membership talks on hold have no importance since the ties between Turkey and the bloc are already "forced relations," Turkish Prime Minister Binali Yildirim said in response to the vote.
"We expect EU leaders to stand up against this lack of vision. The EU should decide whether it wants to continue its future vision with or without Turkey," Yildirim said, according to Reuters.
Lawmakers called for the measure earlier this week, citing concerns about human rights in Turkey. They said the country is led by an "autocrat" in the form of President Recep Tayyip Erdogan, who is seeking to "destroy" the EU. MEPs urged any negotiations on Turkey's membership to be halted until Ankara makes a stronger effort to meet the bloc's demands.
Turkey has repeatedly faced criticism from the EU for its record on human rights, democracy and freedom of the press, with these concerns having escalated over the last few months in the aftermath of the attempted coup in July.
The coup was followed by a mass crackdown on opposition figures, including teachers, journalists and civil servants deemed sympathetic to Kurdish separatism and self-exiled cleric Fethullah Gulen, who Turkey says masterminded the coup. President Erdogan even said he might reinstate capital punishment to deal with those who took part in the coup – a notion which was also met with defiance from EU lawmakers.
Ankara has reacted angrily to Thursday's motion, Hurriyet daily news reports, with chief negotiator Omer Celik saying the "debates lack vision."
"It is easy to talk like this in places where terrorism has not stepped. At a time when Turkey, which has a 1,295-km border with Syria and Iraq, is involved in a heightened fight against terrorism, there are visionless and imprudent debates going on in Europe, instead of showing solidarity," Celik said, as cited by the news outlet.
Ahead of the vote, President Erdogan said that whatever the EU Parliament decides, it "has no value in [Turkey's] eyes."
"We have made clear time and time again that we take care of European values more than many EU countries, but we could not see concrete support from Western friends ... None of the promises were kept," he told an Organization of Islamic Cooperation (OIC) conference in Istanbul on Wednesday.
Brussels fears that Turkey could discontinue the deal made earlier this year to reduce the flow of asylum seekers to Europe. The agreement was made in exchange for the promise of visa-free travel to the Schengen area for Turks, and has successfully reduced the flow of migrants into the EU.
European leaders are scheduled to discuss Turkey again when they meet in Brussels for a regular summit on December 15.
You can share this story on social media: