Turkey takes care of European values more than many EU countries, Erdogan says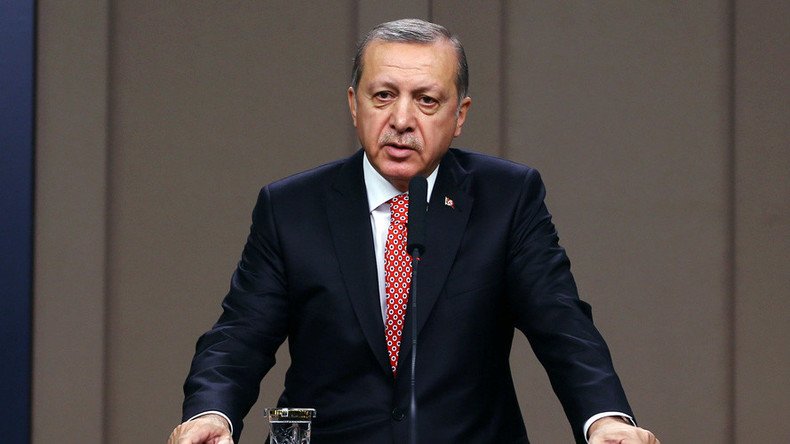 An upcoming vote by the European Parliament on whether to end EU membership talks with Ankara has "no value in our eyes," Turkish President Tayyip Erdogan has warned, accusing Europe of siding with terrorists.
"We have made clear time and time again that we take care of European values more than many EU countries, but we could not see concrete support from Western friends ... None of the promises were kept," he told an Organization of Islamic Cooperation (OIC) conference in Istanbul on Wednesday, Reuters reported.
"There will be a meeting at the European Parliament tomorrow, and they will vote on EU talks with Turkey… whatever the result, this vote has no value in our eyes," he said.
On Tuesday, leading lawmakers in the European Parliament called for putting a halt to EU membership talks with Turkey, citing concerns about human rights.
"Turkey under Mr. Erdogan is more and more drifting towards an authoritarian regime," Gianni Pitella of the Progressive Alliance of Socialists and Democrats stated.
Turkey, which has been negotiating an entrance into the 28-member European bloc since 1987, has consistently faced criticism from the EU over its record on human rights, democracy, and freedom of the press. These concerns have been exacerbated over the last few months by the aftermath of the attempted coup in July, which has seen a mass crackdown on opposition figures, including teachers, journalists, and civil servants deemed sympathetic to Kurdish separatism and self-exiled US-based Turkish cleric Fethullah Gulen who, Ankara says, masterminded the coup.
On Wednesday, Erdogan once again accused Europe of siding with terrorists and sheltering members of the militant Kurdistan Workers Party (PKK), which has waged a three-decade insurgency against Turkey.
"On one hand, you declare the PKK a terrorist organization, on the other you have terrorists roaming freely in the streets of Brussels. What kind of sincerity is this?" he asked.
Earlier this month Erdogan accused Germany of "aiding terrorism," the Hurriyet daily reported.
"We are concerned that Germany, which has been taking members of terrorist organizations such as the PKK and the DHKP-C under its protection, will now become a backyard of [the Fetullah Terrorist Organization] FETÖ," he said.
In early November, Turkish Foreign Minister Mevlut Cavusoglu made the same accusations.
"The DHKP-C and PKK are carrying out activities in Germany, but they support those because they are against Turkey. Germany is the country that supports terrorist organizations against Turkey the most," Cavusoglu told a news conference in Ankara, as cited by Reuters.
Amid repeated warnings from EU officials that the union's refugee deal with Ankara could collapse, the Turkish president has recently issued a veiled threat to unleash a wave of refugees on Europe. Under the agreement, Turkey has been acting as a flood-gate, receiving refugees sent back by the EU and resettling some to Syria.
Erdogan said Turkey is currently hosting three million refuges on its territory and that if they all marched into Europe, the Europeans would not know what to do with them. He also mentioned that under the terms of Turkey's refugee deal with the EU, the union pledged to provide six billion euros in aid over the course of several years.
"As far as I can remember, until now the EU had only given 250-300 million Euros to Turkey so far," he said in an interview with Al Jazeera.
You can share this story on social media: