Turkey accession talks must be 'frozen immediately' – MEPs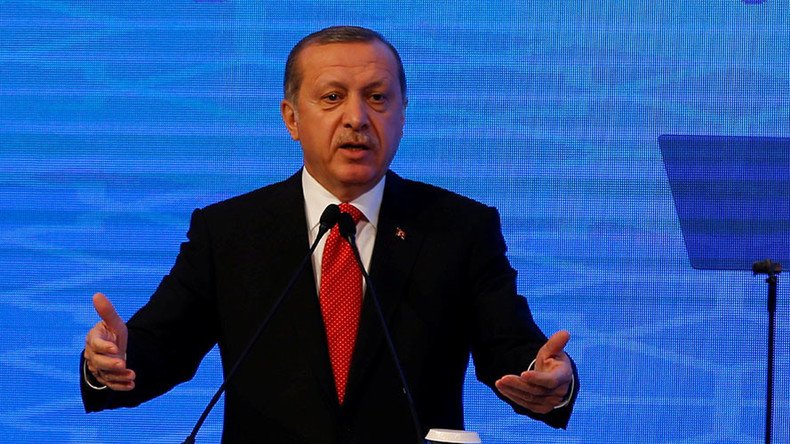 A wide panel of MEPs have called for a halt to EU membership talks with Turkey, citing concerns about human rights in the country. They said it is led by an "autocrat" and that along with "Russians and Americans" it is seeking to "destroy" the bloc.
In the European Parliament on Tuesday, leading lawmakers urged for any accession talks to stop until Turkey makes a stronger effort to meet the EU's conditions.
"Our message to Turkey is very clear: accession negotiations should be frozen immediately," said Manfred Weber, the leader of the center-right European People's Party, as quoted by Reuters.
"Turkey under Mr Erdogan is more and more drifting towards an authoritarian regime," added Gianni Pitella of the Progressive Alliance of Socialists and Democrats.
Guy Verhofstadt, who leads an alliance of liberal parties, even claimed that "Russians and Americans and Turks" are working together "to destroy the European model," accusing US President-elect Donald Trump, Turkish President Recep Tayyip Erdogan and Russian President Vladimir Putin of undermining the EU.
"We have this ring of autocrats around the EU instead of the ring of friends," he said, as quoted by AFP.
However, the EU's top diplomat Federica Mogherini said too much was at stake for negotiations to be put on hold.
"I think the best way to strengthen Turkish democracy ... is by engaging with Turkey, keeping channels open," she told the parliamentary session. "If the accession process came to an end, I believe we would both find ourselves in a lose-lose scenario."
Erdogan himself has warned the EU that if they can not decide on Turkey's membership bid by the end of this year, there may be consequences.
"Latin America countries enjoy visa-free travel [to Europe], but they delay Turkey. We discussed the issue the other day and said: 'Let's be patient until the end of the year. Some things have to happen, or we'll shut down that file on the readmission,'" Erdogan said, as quoted by the Hurriyet, referring to a deal made earlier this year to keep illegal asylum seekers in Turkey.
The agreement, made in exchange for the promise of visa-free travel to the Schengen area by Turks, has successfully reduced the flow of migrants into Greece.
Erdogan also floated the idea of instead joining the Shanghai Cooperation Organization (SCO), a security and economic pact involving China, Russia, Kazakhstan, Kyrgyzstan, Tajikistan and Uzbekistan, with India and Pakistan as acceding states, as well as a range of observers.
Turkey, which has been negotiating an entrance into the 28-member European bloc since 1987, has consistently faced criticism from the EU for its record on human rights, democracy and freedom of the press. These concerns escalated over the last few months in the aftermath of the attempted coup in July, which saw a mass crackdown on opposition figures including teachers, journalists and civil servants deemed sympathetic to Kurdish separatism and self-exiled cleric Fethullah Gulen, who Turkey says masterminded the coup.
Politicians in both the EU and Turkey have engaged in mutual recriminations over the past few months. Austrian right-wing presidential candidate Norbert Hofer has threatened to withdraw his country from the EU if Turkey is granted membership, while Turkish Foreign Minister Mevlut Cavusoglu has accused Germany of "supporting terrorist organizations" by turning a blind eye to the Kurdish militant groups banned in Turkey.
You can share this story on social media: