Turkey to mull joining SCO, led by Russia & China, instead of 'fixation' on EU – Erdogan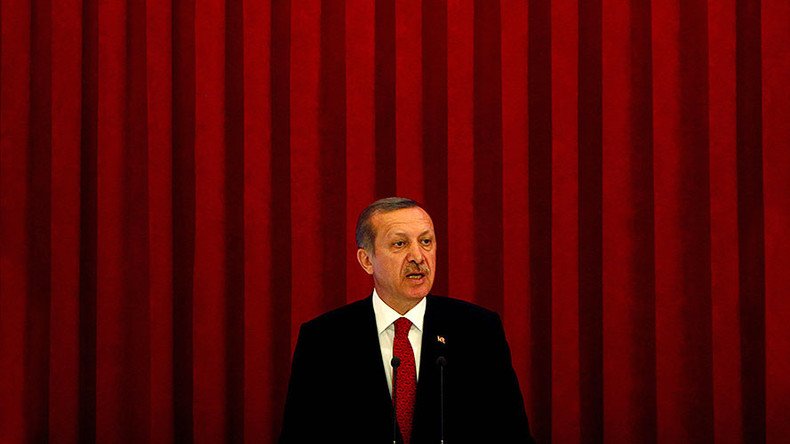 Turkish President Recep Tayyip Erdogan said the idea of joining the SCO, which he said he has already discussed with Russia and Kazakhstan, might be a good alternative for Ankara, which remains bogged down in lingering EU membership talks.
"Turkey should first of all feel relaxed about the EU and not be fixated" about joining it, Erdogan told Turkish journalists on Sunday. "Some may criticize me, but I express my opinion. For example, I have said 'why shouldn't Turkey be in the Shanghai 5?'" he said, as quoted by Hurriyet.
The Turkish leader made the impromptu remark on board his presidential plane while returning from his tour of Pakistan and Uzbekistan.
Before 2001 the Shanghai Cooperation Organization (SCO) was referred to as the 'Shanghai Five.' Uzbekistan joined the alliance in 2001, marking the SCO's first enlargement. Pakistan was granted membership status earlier this year, along with its rival, India. Both Islamabad and Delhi are expected to become full members in 2017 after an SCO meeting in Astana, Kazakhstan.
The hardline Turkish leader, whose domestic policies and crackdown on civil society has put him at odds with Brussels, said he has already discussed the issue with Russian President Vladimir Putin and Kazakhstan's Nursultan Nazarbayev.
Erdogan asserted that Turkey's membership in the SCO "will allow it to act more freely [in its EU bid]," a noteworthy reservation suggesting that the stunning idea still requires a reality check.
Turkey formally applied for EU membership in 1987, but accession talks only began in 2005. Earlier in March, as an incentive for Ankara to help Brussels stem migrant flows into Europe, the EU and Turkey agreed to speed up membership talks. The process quickly landed in disarray, however, with each side accusing the other of undermining the deal.
The failed coup attempt in Turkey, which resulted in at least 240 fatalities, has only served to further unsettle the already uneasy relations between European governments and Ankara, as Turkish authorities have suspended, dismissed, or detained more than 100,000 people, including soldiers, judges and teachers, in the aftermath.
Erdogan's opponents accuse him of using the botched rebellion as a pretext to suppress dissent, an allegation that he has repeatedly denied. However, in summer of this year, Erdogan backed reintroducing the death penalty amidst the ongoing trials of the major coup plotters.
Brussels maintains that restoring the death penalty would be a "red line" for EU membership talks, with some European countries even demanding that EU accession talks be halted immediately, but France and Germany have objected to the proposal. The UK, in turn, has also warned against pressuring Ankara on the issue, with Foreign Secretary Boris Johnson urging the EU "not to push Erdogan into a corner."
"I was invited to the leaders' summits in my early years as prime minister. Then they stopped inviting us. Why? Because we told everything as it was. For example, they open up [accession] chapters, but they don't close them. Why open the chapters if they will not be closed?" the Turkish president said on Sunday.
Erdogan once again warned Brussels to take action on Turkey's membership bid and fulfill its pledge to grant a visa-free regime to Turkish nationals, as was agreed to in the refugee deal, stressing that it must "decide by the end of the year."
"We discussed the issue the other day and said: 'Let's be patient until the end of the year. Some things have to happen, or we'll shut down that file on the readmission [of migrants as part of the refugee deal],'" Erdogan added.
Despite his blunt statements, it is unclear whether Ankara is seriously considering joining the SCO. Russia and Turkey are only beginning to restore their bilateral ties, which soured last November when a Russian jet was downed by the Turkish air force over Syria, and much still has to be done by both sides to restore trust.
Some observers caution against rapidly enlarging the SCO, arguing that the alliance's integrity could be compromised by unresolved disputes among its members. The SCO, which is thought to be the largest non-Western organization in Eurasia, was founded in 1996 to promote security and economic cooperation in the region.
You can share this story on social media: