'Free him now!' Protesters demand release of Israeli prisoner charged with killing Palestinian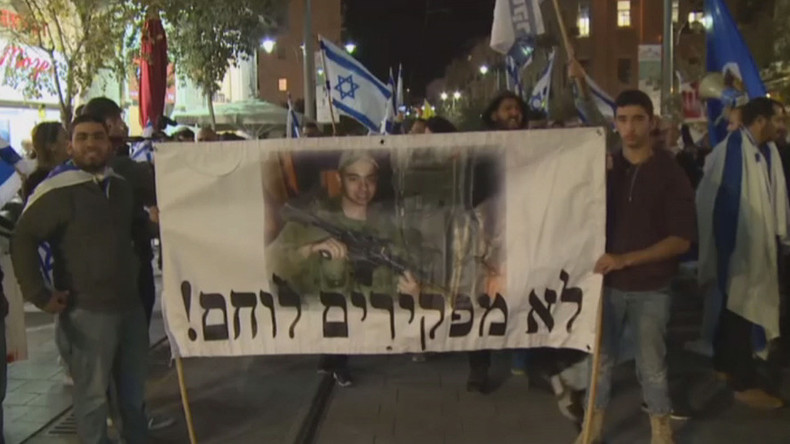 About 150 demonstrators have taken to the streets of Jerusalem to protest the trial of an Israeli soldier named Elor Azariya who has been charged with killing a Palestinian man back in March.
Protesters gathered near the Old City, where they waved Israeli flags and chanted "Free him now!"
"We think Elor has to be released, I was there at the incident, there was a danger and he did what he was supposed to do, what a soldier in every normal army would have done," one of the demonstrators told Ruptly.
The incident itself took place on March 25, when two Palestinians men were fighting with two Israeli soldiers at a southern West Bank checkpoint in Jilbar, Hebron, and one of the Palestinians was shot in the head and killed.
The investigation later proved that bullets fired by the Israeli soldier had taken the life of the 21-year-old victim, who was already wounded when Azariya shot him.
The Israeli soldier claimed to have shot the man in an act of self-defense, insisting that the Palestinian had an explosive, but Chief-of-Staff Lieutenant General Gadi Eisenkot has condemned his actions.
Pressure has come both from politicians and the public to downgrade the charge to negligent homicide, however. Israeli PM Benjamin Netanyahu said that the IDF shouldn't come under fire at all, no matter what they do, but the prosecution went on to press for manslaughter.
A blood-chilling video of the incident that emerged has triggered outrage across the globe.
GRAPHIC VIDEO
The verdict of the trial is set to be announced within two weeks.