Anti-govt protesters storm Brazil's Congress, demand military intervention (VIDEO)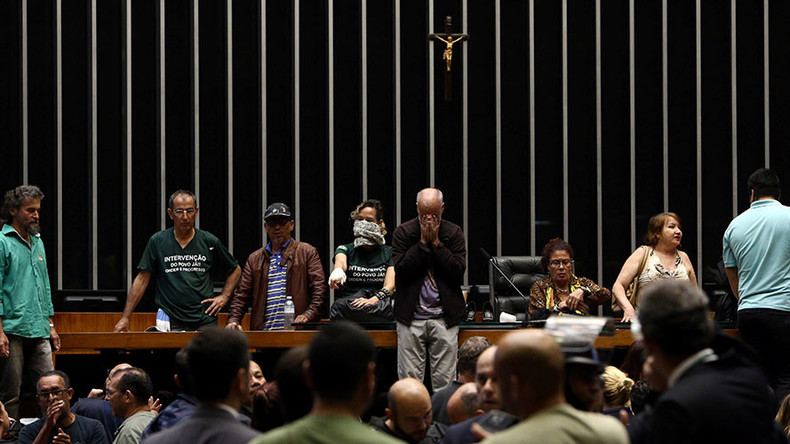 Dozens of anti-Michel Temer protesters disrupted a session of the National Congress in Brasilia, occupying the lower chamber and calling for military intervention. Meanwhile in Rio, thousands demonstrated and clashed with police outside the assembly.
READ MORE: Nationwide strikes against Temer 'the usurper' grip Brazil (VIDEOS)
A group of around 50-60 protesters stormed the Chamber of Deputies of the Brazilian congress in Brazil's capital, breaking a window and forcing their way onto the main speaker's stage. Several security guards were reportedly injured.
The demonstrators shouted slogans against corruption and Michel Temer's center-right government, which replaced the government of Dilma Rousseff following her impeachment. They sang the praises of Sergio Moro, a federal judge known for his work against official corruption and money laundering. The protesters denied any political affiliation and asked for the military to intervene.
"They're giving away our country to the bandits. Our wealth is going away," a protester said, as quoted by the Folha de São Paulo newspaper.
"It is the intervention of the people with the help of the military," one protester, Jeferson Vieira, told O Globo. "Our category is only the one of the people, it has no category. This place should be closed and chained, this is a prison here."
Brazil was ruled by a military dictatorship from 1964 to 1985 in period characterized by torture, repression and disappearances, but it is also remembered fondly in some right-wing circles for a perceived lack of corruption.
Police have ordered journalists to leave the vicinity, and have shut off lights and air conditioning in an attempt to force the protesters to leave.

Meanwhile in Rio de Janeiro, thousands of demonstrators surrounded the ALERJ (Legislative Assembly of Rio de Janeiro) building, holding banners saying "Public servants won't pay for the crisis!" and calling for the resignation of Governor Luiz Fernando Pezao.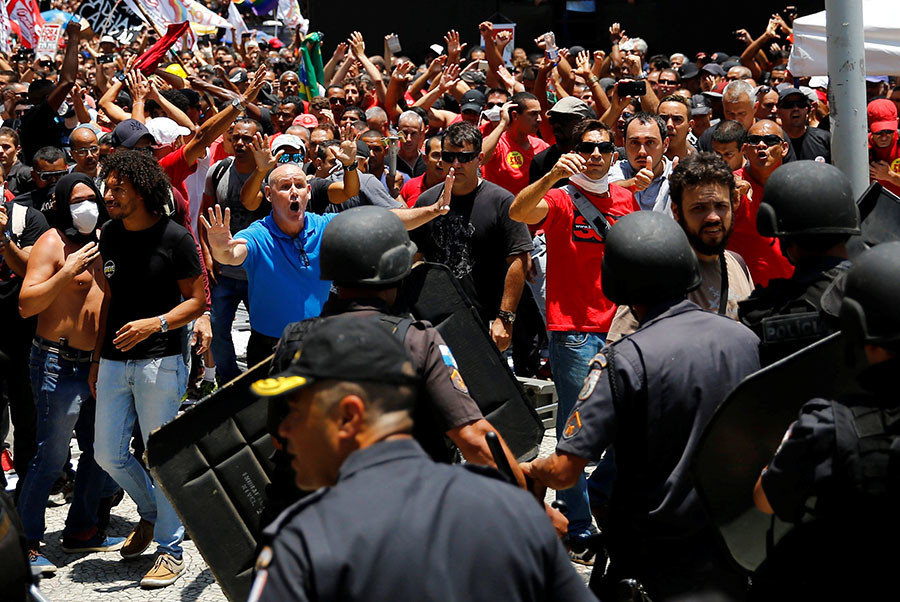 "We are fighting here at the ALERJ today to fight for our rights," a protester identifying himself as a police officer told RUPTLY. "All public safety personal is here today in ALERJ, about 15,000 people. We are going to tear down all those bandits that are over there inside. They built a wall to hide, but they are bandits."
A number of protesters attempted to make their way through barricades but were repelled by riot police using tear gas and water cannons.
Rio de Janeiro has been one of the hardest hit areas by Brazil's economic recession, leading the federal government to freeze the state's bank accounts on account of its vast debt. Many public servants, including ambulance workers and police, have not been paid for months. This has led Governor Pezao to impose dramatic austerity measures, which critics say will increase transport and utilities costs, as well as cuts to wages, pensions, social programs and subsidies for the poor.